Manchester City's Yaya Toure upbeat after defeat by Real Madrid
Yaya Toure thinks Man City's narrow defeat by Real Madrid proves they are getting to grips with the Champions League.
Last Updated: 20/09/12 9:54am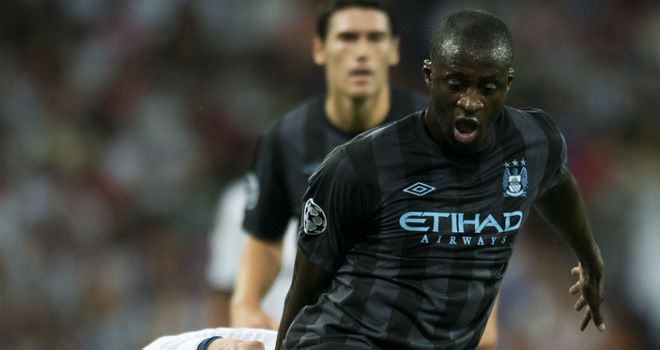 City's second foray into the competition started with a dramatic loss in their Group D opener at the Bernabeu on Tuesday.
The Premier League champions failed to get beyond last season's group stages and face a tough task to better that when facing two more past winners in Borussia Dortmund and Ajax.
But, after only losing to Real - one of the game's true heavyweights - by conceding two late goals, City talisman Toure is convinced progress is being made.
The star midfielder said: "I think we played against a fantastic team. Real Madrid have a big history, they are a big club.
"It was quite good for us to play against them to see what level we are at now.
Intensity
"I think we played well and we are continuing to learn how to play in Europe. We have a lot of young players and I think it is very good for us, although we lost.
"I think we have a couple of important games coming up and for us it is very important this year to go to the second round."
Toure feels the intensity of the game at the Bernabeu will stand City in good stead should they reach the knockout stages.
He added: "The game was like a quarter-final of the Champions League. It was a fantastic game.
"I think for us it is not too bad, we have to keep improving, keep working hard and next time we will be better than that.
"We have a fantastic squad and a fantastic manager, we have to continue working like that. In a couple of months I think we will be better."
City, who return to domestic action against Arsenal this weekend, host Dortmund in their next Champions League game in a fortnight's time.