Manchester City manager Roberto Mancini plans to speak with Mario Balotelli amid more reports of a row
Roberto Mancini plans to talk with Man City's Mario Balotelli amid reports the manager pushed him down the tunnel.
Last Updated: 24/09/12 11:15am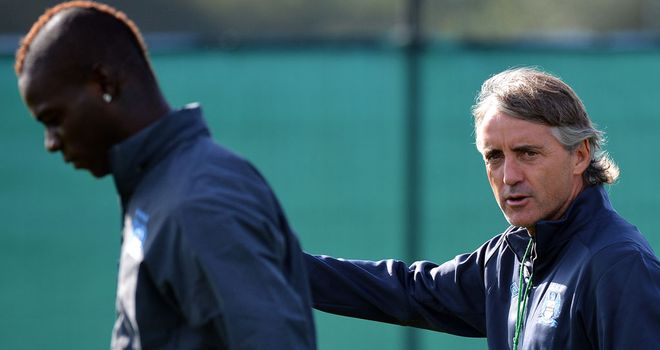 Mancini reportedly clashed with the Italian striker in the wake of Sunday's 1-1 draw at the Etihad Stadium after Balotelli confronted the boss.
The manager admits the 21-year-old was "probably" unhappy at only being used as a late substitute after coming on five minutes from time following Laurent Koscielny's 82nd-minute equaliser for the Gunners.
The omission came after Mancini also left Balotelli out of his squad for the 3-2 UEFA Champions League defeat at Real Madrid in midweek, with that snub also prompting reports of a row between the two, which the boss denied.
Mancini had claimed on Saturday he has "endless patience" with the temperamental youngster but refused to deny shoving him after the game, although did not expand on why they had quarrelled.
He said: "I can't remember. I don't know if he asked me something, but it is not important.
"Was it because he wasn't playing? Probably. I will ask him."