Roberto Mancini confident Manchester City will win second Premier League title
Roberto Mancini believes Manchester City will retain their Premier League crown even though it will be tough going.
Last Updated: 29/09/12 9:14am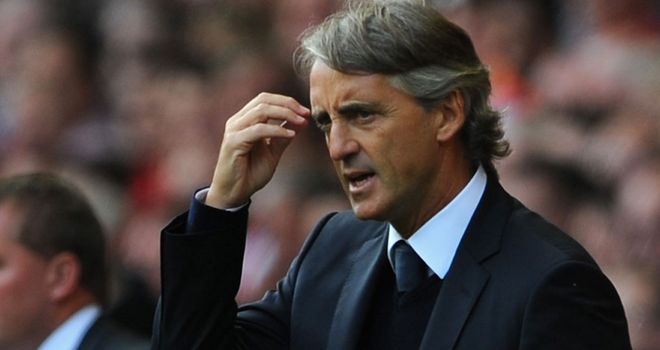 City made a blistering start to last season before going on to become Premier League champions in dramatic style on the final day. This term they have yet to hit top form.
Occupying seventh place in the table and without a win in their last four games in all competitions, City will be determined to get back on track against Fulham on Saturday.
Mancini believes winning the second title is harder than the first, but remains confident his side will pull off the feat.
Mancini said: "I agree that it is more difficult the second year but we will win the title.
"I think this year all these teams are better teams and probably every game will be more difficult than last year."
City have had the best defensive record in the top flight for the past two seasons but this season so far they have looked fragile at the back, conceding 14 goals in seven competitive matches so far and without a single clean sheet.
Mancini pointed out that in the five Premier League matches his side have only let in two more than at the same stage last season, and blamed the pre-season disruption.
He added: "It's difficult because we didn't have 14 players in pre-season and had new players on the last day of the transfer market and they need time.
"Another reason we didn't work well in pre-season is because we didn't have all the defenders, but we have all these problems and conceded only two goals more than last year.
"We had the best defensive record for the last two seasons, but football is like this - sometimes you don't concede a goal for 10 games and then concede two or three goals. We need to work hard and have more concentration.
"Maybe we score less than last year after five games but we have had [injury] problems with Sergio [Aguero]."
Aguero returned to the starting line-up in the 1-1 draw with Arsenal last weekend, and French midfielder Samir Nasri will be back after injury for the match at Fulham on Saturday.