Manchester City boss Roberto Mancini praises Carlos Tevez after win over Swansea City
Manchester City boss Roberto Mancini described Carlos Tevez as 'vital' to the club after the victory over Swansea City.
Last Updated: 27/10/12 9:08pm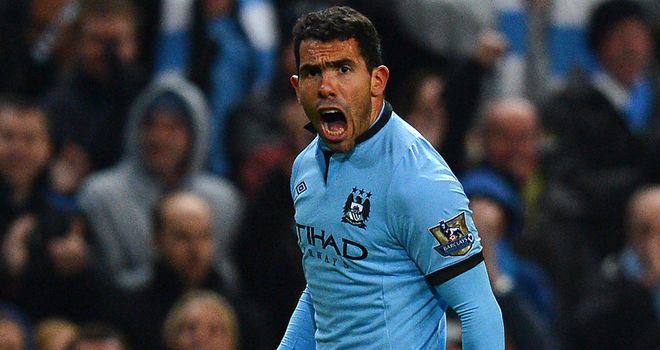 The Argentine striker's 61st minute goal earned three points for the Premier League champions when they were far from their best on Saturday evening at the Etihad Stadium.
And Tevez's heroics, following his contribution to last weekend's dramatic win at West Bromwich Albion, are a significant change from 12 months ago, when he seemed destined to leave his club after a much-publicised bust-up with Mancini.
"Carlos played very well against West Brom and again today," said Mancini. "He worked very hard and I am very pleased for him.
"He scored a good goal at an important time and is a vital player for this team."
Mancini also acknowledged City, who lost at Ajax in the UEFA Champions League in midweek, are currently struggling for form amid the fixture congestion of three games in a week.
"It was important we won this game because we have just played a difficult Champions League match and now we have a few days' rest because we have no midweek game," he said.
"We were tired and I think it showed in the first half but we played better in the second half so I am happy.
"Swansea were fresher and played very well so I am very pleased we won this game, even if we weren't at our best.
"They showed what a good side they were last year and they are doing the same again this season."