Vincent Kompany rejects talk of crisis at Manchester City
Vincent Kompany insists there is no crisis at defending Premier League champions Manchester City.
Last Updated: 29/10/12 11:40am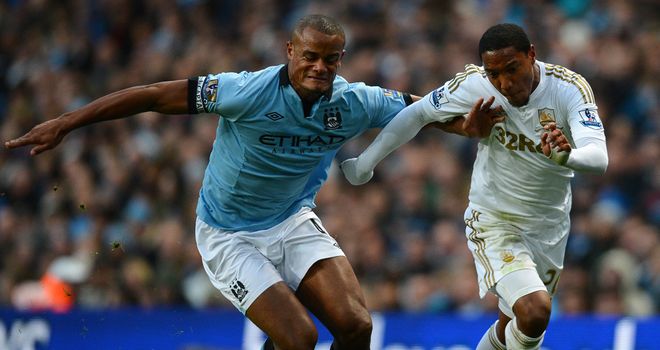 Reports have suggested the City squad was heading for mutiny because the players do not like the changes Roberto Mancini has made this season.
Mancini came under fire for changing his formation too often during the game and defender Micah Richards said he was not comfortable with the change of system at the back.
However, Kompany has moved to reject the claims as nonsense.
"That's funny. I don't like to get involved in this but sometimes I do.
"I never have a problem with performances being down or up. People have the right to have opinions on performances, but the stories are based on things I cannot even relate to, and I am in this team.
"I started my career to play football and be the best footballer. I expect journalists to tell the truth and do the job for that.
"That is just sensationalism, nothing more."
Kompany, who was outstanding for City last season, has also come under the spotlight for his form this term, but the Belgian insists he has not been affected by the criticism.
"Personally, I don't ever get affected by it," added Kompany.
"I just keep living the life and keep working really hard. If one day goes a little bit less than another, I know I have at least done my best.
"By being patient and keeping doing what you have done to get success in the first place, you'll get there again. It is a very difficult thing.
"People around the club get wild and excited but I stay very calm.
"We'll be here in a couple of weeks or months and maybe everyone will be praises and smiles. It is going to happen. Everything takes time."