Roberto Mancini warns Manchester City to take last chance against Ajax
Roberto Mancini has told his Manchester City players they have one last chance to rescue their Champions League hopes.
Last Updated: 06/11/12 7:29pm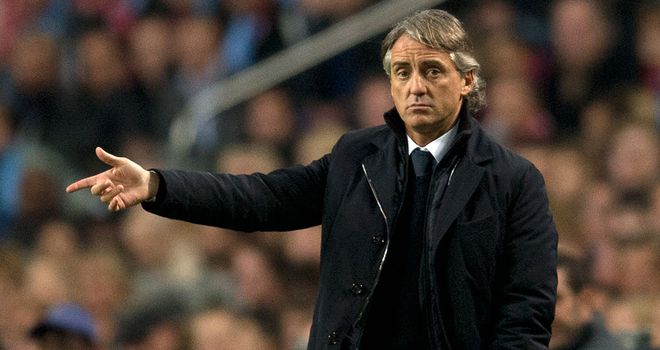 City are facing the prospect of a second successive group stage exit and go into Tuesday's home game against Ajax with just one point.
Mancini claims City are "not ready" to mount a genuine European challenge, and their cause is not helped by an injury list featuring David Silva, Micah Richards, Joleon Lescott and James Milner.
But the manager will not accept a defeatist attitude from the players who are fit.
He said: "We have some important players injured, but when you have these problems it's time for other players to give more on the pitch, because this is a last chance for us.
"I don't think we're ready to win the Champions League. If we say we're ready to win it, we're not honest.
"In the Champions League it's clear that incredible situations can happen in February and March but we've been drawn in a tough group this year, like last year.
"We're a good team but we're not ready in the Champions League, like the other teams. Chelsea tried for 10 years to win the Champions League.
"They were probably the best team in Europe for 10 years and they won it after 10 years, probably when they didn't deserve to. They deserved to win it three or four years before.
"The Champions League is like this. If we win our next three games, then fantastic ... anything can happen. But the road is very long."