Roberto Mancini says new contract might be in the offing for midfielder Yaya Toure
Roberto Mancini is delighted to hear that midfielder Yaya Toure wants to remain with Manchester City.
Last Updated: 05/11/12 11:53pm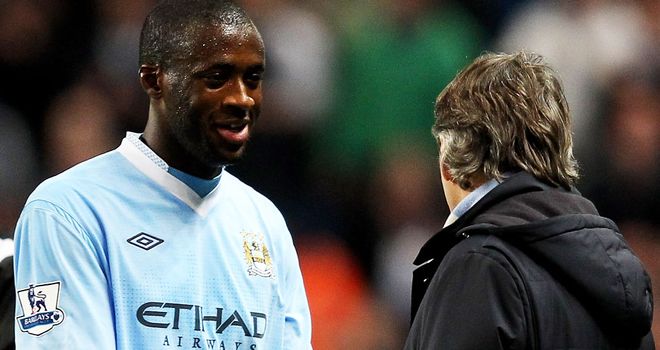 Toure has made a huge impact since joining from Barcelona two years ago and, although he is regularly linked with other top clubs, he says he is very happy at City.
The 29-year-old told L'Equipe: "I want to make history with this club, I want to end my career here. I'm pretty sure and I hope that, when I'm an old man, sat around, they will still talk about me here."
Asked if a new deal could be in the offing for the Ivorian, Mancini said: "I think so, because Yaya for us is a very important player and for me, personally, he is one of the best players in Europe.
"In my life, I saw a lot of big players and I think Yaya is part of this."
Mancini accepts that Toure has not been as dynamic as usual of late but puts this down to the absence of other key players.
"It is probably because we had many injuries, to many important players like David Silva," he said.
"If we play David and Samir (Nasri) then Yaya will play better, this is sure. But also, when Yaya is not 100 per cent, he is important for us."
Rows not a problem
In his L'Equipe interview, Toure also referred to some of the problems that can arise in the Manchester City dressing room.
"Of course there are rows at a big club, with all the people with different egos, including mine," he said. "But we will be OK, I am still confident."
And Mancini said: "I don't have any problem with this. I had, as a manager, a lot of players like this, top players, and, as a player, (I was) the same.
"This is normal in a top squad where you have 40-50 players at this level. It is normal that you can have this problem, but we don't have any other problems."