Manchester City midfielder Gareth Barry still has belief in Champions League quest
Gareth Barry has insisted that Manchester City have not given up on their UEFA Champions League dream.
Last Updated: 06/11/12 7:29pm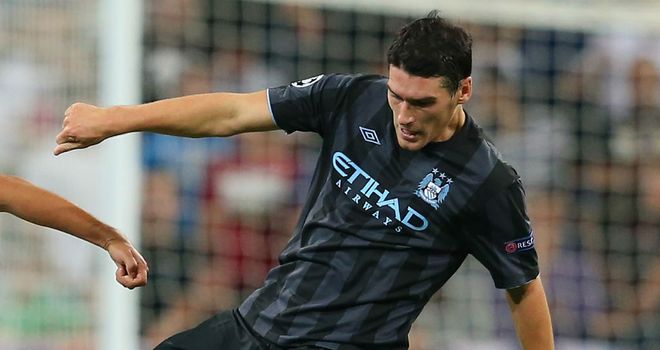 The Premier League winners are in danger of early elimination for a second successive season after collecting just one point from their opening three Group D matches.
They now face Ajax in a must-win clash at the Etihad Stadium and Barry claims the team have rallied after losing 3-1 to the Dutch side in Amsterdam a fortnight ago.
He said: "The manager, after the Ajax game, when everyone was disappointed, still instilled us with belief that if we win the (last) three games, then we can go through.
"As players we believe in that too. While it is still possible to qualify - that is our aim - starting tomorrow night against Ajax, we are going to try for three points and go from there."
Roberto Mancini said after the defeat in Amsterdam that City needed a 'miracle' to progress in the competition, but Barry remains confident and is backing his manager.
"The manager has his own way of going about things," said Barry.
"As a group of players we are going into this game, believing we can win them and we can win the Champions League.
"The manager has experience of winning things so you have to listen to what he is saying."
No egos
City opened their latest European challenge with a 3-2 defeat at Real Madrid and then snatched a 1-1 draw against Borussia Dortmund.
Barry, 31, said: "We are finding it tough to put our finger on exactly why it has been tough.
"It is quite clear that we have not produced our best performances against the quality of opposition that are in the Champions League and, when it comes to these games, when you're not producing your best you get found out. That seems to be what has happened.
"I am sure if we could have held on in Madrid it would have set us up a lot differently to where we are at the moment.
"We have been punished on nights when we have not been top of our game."
City have generally performed below their own high standards so far this season, even though they are still unbeaten in the Premier League and just two points off the top after 10 games.
Barry has little time for suggestions that there are ego clashes in the dressing room that could be affecting team spirit or performances.
He said: "Ever since this club went through the change, it has had that thrown at it.
"The big names have come in and whenever there are a few negative results, these things are thrown at the players - egos, people can't get on and whatever.
"But inside the dressing room we are close. We will put that right and make people quiet with performances and that is our target."