Roberto Mancini thinks Manchester City are 'finished' in the Champions League
Manchester City manager Roberto Mancini has admitted his team's UEFA Champions League dream is just about over.
Last Updated: 07/11/12 7:59am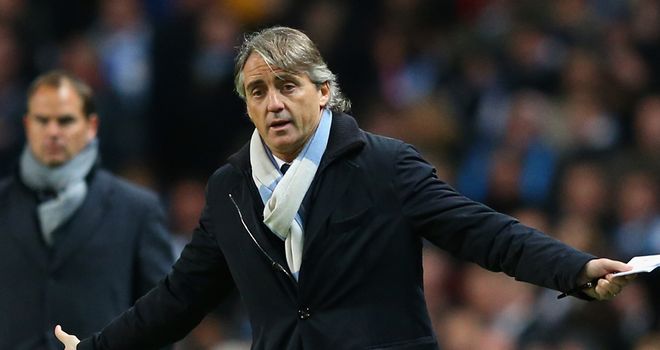 City came from 2-0 down against the Dutch side but had to settle for a point and now need to win their remaining two matches, whilst hoping other results go their way, if they are to stay in the tournament.
Mancini will keep fighting while it is still mathematically possible but is realistic about City's chances of reaching the last 16.
The Italian said: "Unfortunately we took only one point and now I think it is finished for the Champions League.
"If our destiny is we win the next two games and go to the second stage, it is our destiny that we win the Champions League."
Mancini was unhappy after the match that Sergio Aguero had a goal disallowed when Aleksandar Kolarov was ruled to have strayed marginally offside before crossing, but admitted City had contributed to their own downfall with poor defending for the two Ajax goals.
"I think that we scored three goals but we conceded two stupid goals," he said.
"In a game as important as this you can't concede two goals from corners."
Mancini walked onto the field to confront the referee at the final whistle.
Recalling what he said to the referee, the City boss said: "I said it was a goal. I didn't see the last situation with Mario that was a penalty. I said it was a goal.
"The referee and his staff were really poor."
In his post-match press conference, Mancini was also asked to clarify what he said to a cameraman who followed him onto the field.
He said: "The camera wanted to film me after the game. I said, 'Finish, finish. Do not film me'."