Pablo Zabaleta took heart from Manchester City's spirit in their draw with Ajax
Pablo Zabaleta feels Man City should take positives from their comeback against Ajax despite failing to claim victory.
Last Updated: 08/11/12 10:19am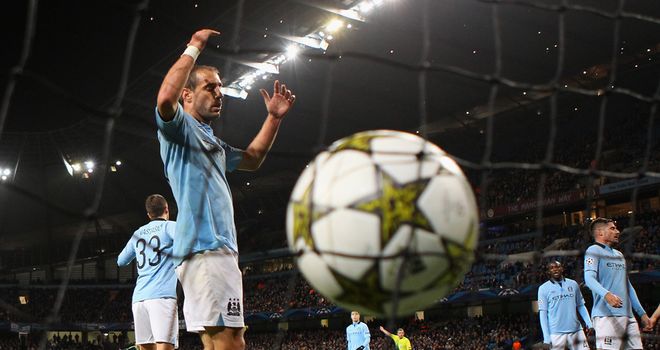 City look to be heading out of the UEFA Champions League at the group stage for the second successive season after a damaging 2-2 draw with the Dutch champions at the Etihad Stadium.
But after falling 2-0 down inside the first 17 minutes, Zabaleta feels encouragement can be taken from the way City hit back to almost snatch a much-needed Group D win.
The Argentina international said: "One of the positive points was that the team showed a very good spirit. It is not easy.
"At the start of the game we conceded two goals and the team did well. We showed spirit, tried to get back."
The match ended in controversy after Sergio Aguero had a late winner disallowed and Mario Balotelli was denied a penalty in injury time.
In chaotic scenes after the final whistle, Balotelli protested to referee Peter Rasmussen and manager Roberto Mancini came onto the pitch to remonstrate with the official.
Zabaleta said: "It was really important for us to get three points and we went to the referee to see why.
"Everybody was angry. Roberto asked the referee why he didn't give the penalty or why there was a flag after the goal."
Passionate
He added: "I think when the manager can see you drop two points in a crucial game in the Champions League - he is very passionate.
"We were a bit frustrated and disappointed by the referee's decision but at the end you can do nothing. Now we need to win the next game."
It was feared Mancini might incur a touchline ban but European governing body UEFA confirmed no action would be taken after neither Rasmussen nor the match delegate reported the incident.
The result has left City bottom of their group and needing to beat Real Madrid and Borussia Dortmund and hope other scores go in their favour to reach the knockout stages.