David Platt expects Manchester City to bounce back against Tottenham
Assistant boss David Platt expects Manchester City to bounce back against Tottenham after their European disappointment.
Last Updated: 10/11/12 7:26pm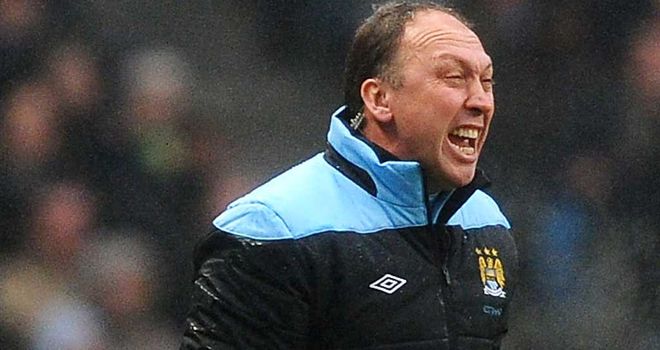 City are on the brink of another early exit from the UEFA Champions League after a disappointing draw against Ajax but Platt expects a strong performance against Spurs on Sunday.
"Players are resilient animals and people don't give them credit for that," said Platt. "They think that players get affected and things like that.
"Disappointment or any pleasure lasts a very short time because immediately there's another game coming your way and the boys have got to put their boots back on again.
"This is the first day we've had back when we're all together and my experience would tell me that that will happen after the next game too."
Spurs are coming off the back of a defeat at home to Wigan themselves but also beat Manchester United at Old Trafford in September so the Premier League champions will not be expecting an easy game.
"It'll be very difficult, very tough," admitted Platt.
"What Tottenham have got is over the years, with what Harry (Redknapp) has created and Andre Villas-Boas has added to and developed, a group of young, energetic players that can harm you, can score a goal in an instant.
"They've got several individuals who can turn a game in an instant and it becomes very difficult because of that. They change their team but they are dangerous."
He continued: "Gareth Bale is Gareth Bale - you know he is going to create chances, you know he is going to get the ball in a game, you know he is good one v one. He will get crosses over, he is direct, quick.
"(Aaron) Lennon on the other side is the same and the two full-backs will keep coming up.
"They will commit players forward when they have the ball, players who when in your final third can cause problems and score goals, no matter how well you defend. You look at them as a collective and you feel as though there are goals in their team."
Threat
And Platt is particularly aware of the threat posed by Jermain Defoe after the striker scored a hat-trick in midweek.
"He is potent. Defoe will always score goals," he added.
"He could go six or seven games without scoring but you know if he does there is a glut coming because his stats tell you he scores goals.
"He has done all his career, ever since he was a young kid. I have had him in an under-21 team and training. He will get efforts on goal and he can finish.
"He is 5ft 3in - he'll have pop at me for that - but a cross comes in and he gets a header in the six-yard box. When a ball comes into the box he knows how to finish, he knows what to do.
"He has very early pictures in his mind about how he is going to score, no matter what angle it is. His first goal on Thursday was just an exceptional finish. He had the picture long before he got the ball."