Edin Dzeko warns he will not settle for substitute role at Manchester City
Edin Dzeko has warned that 'every player has their limits' as he refuses to accept a substitute role at Manchester City.
Last Updated: 11/11/12 12:03pm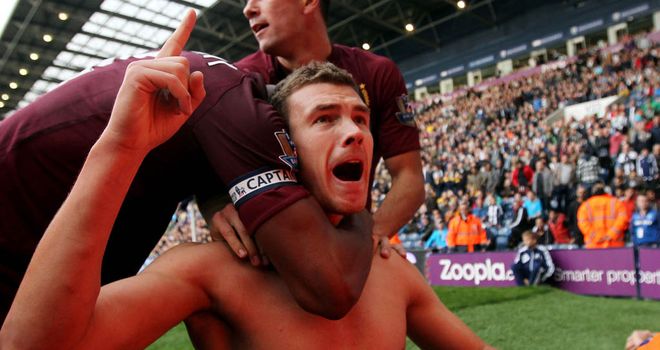 The Bosnia international is the Premier League champions' top scorer so far this season but has still missed out on a series of big games in the current campaign.
And Dzeko has no intention of allowing himself to be seen as merely an option from the bench and has issued a warning to Roberto Mancini.
"You can call me whatever you want but I will never accept that I'm a super-sub," Dzeko told the Sunday Telegraph.
"I'm 26 years old and I played a lot of games before I came here to City and I scored a lot of goals in Germany and, before that, the Czech Republic. I won the league in Germany and was top scorer there.
"I was never just a sub and I never will be one. At the moment, maybe, it's like that. It's not great for me. But with my goals and with the goals I have scored so far this year I think I deserve to play more.
"I am enjoying it at City but I just want to play more. People think, 'OK, he's a nice guy and so he can sit on the bench,' and, yes, I am a nice guy. But everyone has their limits. I don't need to speak to the manager. He knows how many goals I've scored.
"Of course I don't expect to play every game. But I'm not talking about every game.
"What I don't want is to play one game - and then the next two or three I'm not playing. As a striker you need to play a series of games. I know what I'm capable of.
"I came to City to play - if I was scared about playing here because I knew there were good players, top players, and more top players would come, then I would not have come here. But I came here because I know I can do it."