Aleksandar Kolarov confident Manchester City can retain Premier League title
Aleksandar Kolarov recognises Man City are there to be shot but is confident they can retain their title.
Last Updated: 14/11/12 7:49am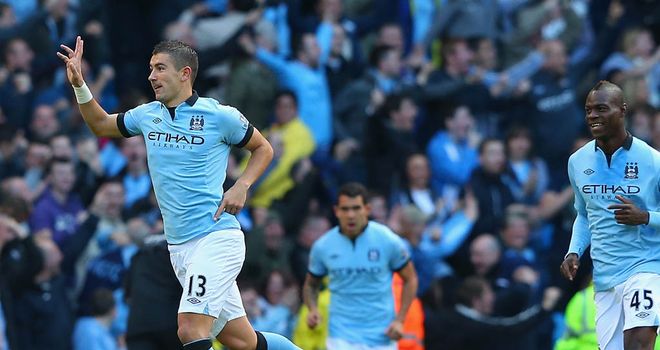 Less than 24 hours after Manchester United had come back from two goals down to beat Aston Villa on Saturday, City were underlining the fact their neighbours are not the only ones with unbreakable spirit as they overturned Tottenham Hotspur's lead to collect three valuable points at the Etihad Stadium.
It means City remain just two points behind United, and the only top-flight side yet to lose, despite rarely hitting the heights this term.
That kind of attribute has served United so well down the years and Kolarov feels City can now profit.
"I understand why we get so much criticism. Everybody wants to beat us, because we are the champions and haven't lost any games this season," said the Serbian.
"The smallest teams, and the biggest ones, all want to beat us and give 200 per cent to do that.
"We have lost games in the Champions League but I think we are still the best team in the Premier League and if we play the way we know how, we will be the champions.
"If we carry on playing with the same spirit we showed against Spurs, nobody can beat us."
Kolarov's situation is complicated further by the fact he is not regarded as first-choice left-back by Mancini, who prefers to use the former Lazio man as a wing-back, or midfielder, as was the case on Sunday.
It is not something he is entirely comfortable with but it is a job he accepts for now, as he said: "When the manager asks for me, I have to do my best for the team but my preference is left back.
"If you are in a big team, or a big squad, like ours you need to give your best, and whatever the manager asks from you, you need to put on the pitch.
"It's not important which position you are in, as long as you get in the first XI."