Manchester City boss Roberto Mancini is not interested in signing Luis Suarez
Roberto Mancini has rubbished suggestions that Manchester City are lining up a January bid for Luis Suarez.
Last Updated: 17/11/12 6:19am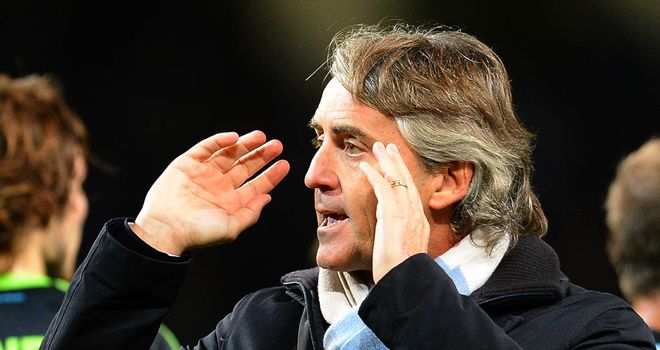 Reports in the press on Thursday suggested the Premier League champions would try to lure the Liverpool striker away from Anfield when the transfer window re-opens.
Brendan Rodgers quickly dismissed the rumours and Mancini has supported the Liverpool manager's claims.
"It is not true, I don't know," said the Italian. "We have a good team and we don't need to buy another player in January.
"We can't buy Suarez or another player because we have four strikers and Suarez plays for Liverpool."
Mancini says he is tiring of speculation surrounding his own future at the club as well as constant rumours of which players are coming in or out of the Etihad Stadium.
"For two weeks we talk about Monaco, after (Pep) Guardiola, after another manager, now Suarez, now Mario (Balotelli)."
The rumours that Balotelli could be on his way out of Manchester surfaced after he was left out of the squad for the 2-1 win over Tottenham.
But Mancini said that was a decision based on his performances in training and had nothing to do with his future at the club.
He said: "Mario didn't play because it was my choice. I have 20 players and if there are some players that don't work well, they don't deserve to play.
"There were other players that worked better than Mario and they deserve to go on the bench."