Roberto Mancini says Manchester City need to concentrate against Cristiano Ronaldo
Manchester City boss Roberto Mancini says 'concentration' is the key as they look keep Cristiano Ronaldo at bay.
Last Updated: 20/11/12 1:43pm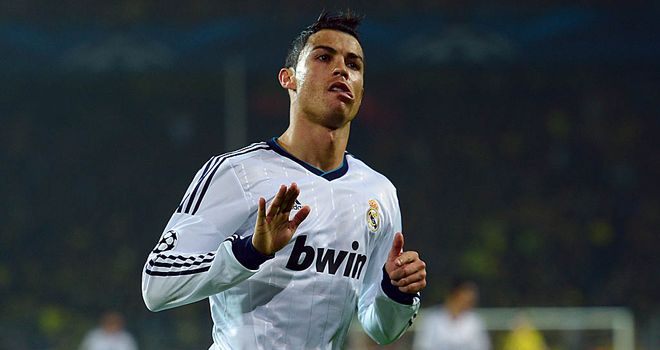 The Portuguese superstar returns to Manchester on Wednesday for the first time since leaving United three years ago as Real Madrid head for the Etihad Stadium.
Real are on the cusp of qualifying for the knockout phase and anything other than a City win will see Mancini's side go out in the group stage for the second successive year.
And Mancini admits that Ronaldo - who he tips to win the Ballon D'Or - is almost impossible to stop.
"How do we stop him? Maybe we'll call the police," joked the City boss.
"He's a top player and, when you come up against someone who can score one or two goals every game, it is difficult. We will need to concentrate.
"For me Ronaldo deserves to win the Ballon D'Or. He scored so many goals last year and that helped Madrid finish above Barcelona.
"But I hope he can have a bad night on Wednesday. Maybe they can leave him at home."
Mancini insists that Madrid and Ronaldo will not take City lightly, despite their struggles in Europe.
"For him it will be a big night - but it's also an important game for Madrid. They still have a chance of going through to the second stage," he said.
"Players like Ronaldo and Messi are difficult to mark. You can do good work but they are still players who can score in every game. That's why they are the best players in the world."
Mancini believes City's disappointing Champions League campaign can be traced back to the final minutes of their opening game in Madrid when, with six minutes to go, they allowed a 2-1 lead to slip as they went down 3-2.
Mancini said: "If we had come back from the Bernabeu with a good result it would probably have changed this group for us.
"When you are 2-1 up with four minutes to go, you should be very strong to close the game."