Patrick Vieira says Arsenal midfielder Abou Diaby could be better than him
Patrick Vieira admits that Abou Diaby has everything to be a better player than him but injuries have cost him dearly.
By Patrick Haond
Last Updated: 20/11/12 3:43pm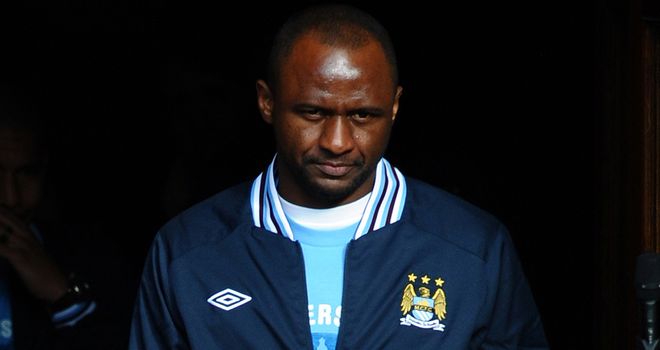 Diaby has always been likened to Vieira, who enjoyed a glittering career in Arsenal colours.
But injuries have curtailed Diaby's progress and, in eight seasons, he has played just 117 games.
"I am frustrated and disappointed for Abou Diaby with all the injuries he suffered," Vieira told France Football.
"If he could have improved constantly, he would have reached an exceptional level. About his potential, he is better than me, better on a technical level, better dribbler, and better scorer too. In one word, more versatile than I was.
"Maybe I was better in terms of physical impact. I suppose it is very difficult for him to have not reached his best. But maybe it is not too late."
One player who has fulfilled his potential is Yaya Toure - currently starring at Vieira's current club Manchester City - where he is Football Development Executive.
"Yaya Toure is the one that has impressed me the most," he continued.
"I didn't know he would have such technical qualities when I saw him playing with Barca. But at City, he has such a power to accelerate. He bowled me over. And I believe he can still help to get more from the team. Moreover we have a very good relationship. He has big intelligence about the game. You can feel he played at Barca."
Vieira talked about his current role at City and his job of now helping the club's younger stars.
"When you are at Manchester City's Academy, that means you already have the qualities. The key is to put those qualities at the collective disposal," he said.
"It is one problem of current football that it becomes more and more an individual sport. That collective education is more difficult to pass on than when I was a young footballer. I remind them, everywhere I won trophies it has always been thanks to a collective sense."
Happy
Vieira admits that he is happy with his life now his playing career has ended.
"I really don't miss football or competition. However, in the Manchester City first team changing-room, when I see them laughing, talking, I miss that life of the group. Moreover we really have a very good group," he said.
"People can hardly believe it, but if I would bring you to Manchester City for a few days, you would be surprised by the atmosphere.
"Everyone is wrong about City. At the club, there are people that are here for some dozen of years, that have experienced everything, who saw the club in the third division.
"They have memory, spirit and bring the love for the club. People would be surprised to see we are like a kind of family. But everyone is influenced by the newspapers. Manchester City is not the big bad club that people could believe.
"It was not the first club to spend so much money. In England in the past, Manchester United, Chelsea, Liverpool or Newcastle in the 90s spent a lot. City didn't have that lifestyle.
"I believe we are changing that view by winning titles and working fine with the Academy, which are the two axis of our strategy.
"It has always been in the club's culture to educate young players. Before, as the first team was not playing top positions, it was easier to reach the first team. Nowadays the demanded level is higher. But soon we will get results of our work."
Vieira admits English football as a whole is now starting to catch up.
"The fact is England is very late about education. We have just built St George's Park National Football Centre, the English Clairefontaine," he said.
"We just set up a league for Under-21. Before there was just reserves and the difference was too big with the first teams. So players were loaned to inferior divisions and some finally got lost.
"England lost a lot of talents between 18 and 21, due to the lack of competition to make live that ground for players.
"There are a lot of things to get from Barca, but you have to adapt it to the English state of mind. The English player is passionate, he goes forward, runs, tackles. That is his culture.
"Spain is a real school for patience where you have to make the ball turn, move the opponents until finding the right moment. Such patience is difficult to pass on in England.
Vieira insists that it is now simply their goal to play like Barcelona, adding: "I can hear a lot of coaches saying they will play like Barcelona.
"To my opinion, it is a mistake, even in France. It is not out philosophy, our mentality. When you look at the history of French teams that got results for about 15 years, it was built on something else than ball possession, rather on power, physical impact, tactics, discipline and a few key players. To me, it would be a mistake to disown that."
Begiristain
Vieira denied that he felt the arrival of Txiki Begiristain could block his potential path to the top at City.
"I never stated a wish to become sport director, I just want to learn what it is all about," he said.
"We will see how we will work together. I rather see me in a long term project at City."
Vieira admits he has no regrets about not being at Arsenal in a different capacity.
"Would I be more helpful at Arsenal? I can understand such questions because I spent nine years there. But life is about seizing opportunities.
"When I retired, Manchester City's people clearly told me they wanted me to stay. I was moved. But that doesn't remove anything to the love I have for Arsenal. But maybe they didn't need me. Actually I don't ask me the question."
He did admit he could see himself taking a role with France in the future.
"Helping French football? My immediate future is with City, but then, if I could bring something to the French team or French football, why not? Yes, in the future, why not?"