Vincent Kompany is unlikely to be rested for Manchester City's clash with Wigan
Manchester City have no concerns over the fitness of captain Vincent Kompany ahead of Wednesday night's trip to Wigan.
Last Updated: 27/11/12 2:39pm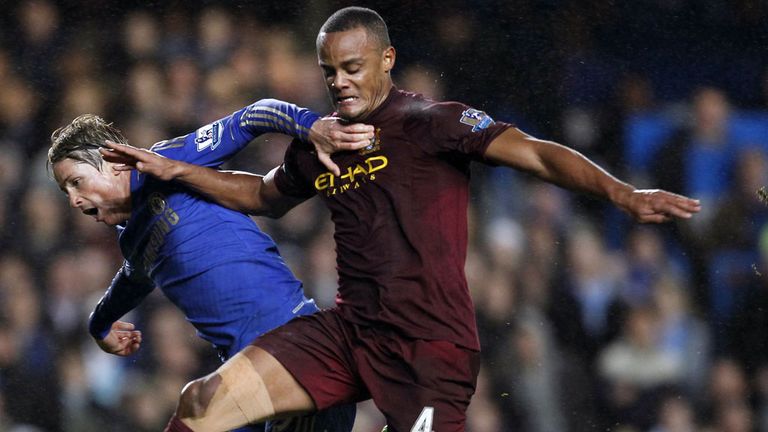 It had been speculated that the 26-year-old central defender might be given a rest, having defied the knee injury he picked up against Real Madrid last week to play the whole 90 minutes at Chelsea on Sunday.
The Belgian was man of the match in that 0-0 draw and City's first-team coach David Platt says a second match in quick succession will not present a problem.
"It's not a case of it being too much at all," said Platt on Tuesday.
"Vinnie would have still been feeling the effects of the injury that he picked up last Wednesday in the Chelsea game but he got through the game and got through it very well.
"There were no after effects and he iced it straight afterwards as a precaution. We don't really have any concerns for him tomorrow night."
Kompany will probably line up alongside the 19-year-old Matija Nastasic, who is currently keeping England international Joleon Lescott out of the side.
"That is a testament to him," said Platt. "In the first couple of games he had to get used to English football but he has done that very quickly.
"The really, really good performance - he has had several good ones, but the real one where it might have been a bit alien to him - was when we went down to West Ham.
"You knew the ball was coming in, they were hitting the diagonal balls towards Andy Carroll, and I thought he acquitted himself exceptionally well."
Clichy remains out
Lescott was not even on the bench at Stamford Bridge but Platt added: "Joleon is fine. He will be available for selection (on Wednesday)."
However, left-back Gael Clichy has been sidelined for the last two games with an ankle injury and will miss the Wigan match and Saturday's clash with Everton.
Platt said: "Gael is progressing well, if not better, than we probably expected, but he won't be involved tomorrow.
"I don't think he will be on the training pitch even towards the end of this week, so Saturday is out as well."