Sir Alex Ferguson says an early Euro exit for Man City could cause an exodus
Sir Alex Ferguson says Manchester City will struggle to keep their top stars if they are not playing in Europe.
Last Updated: 02/12/12 7:31pm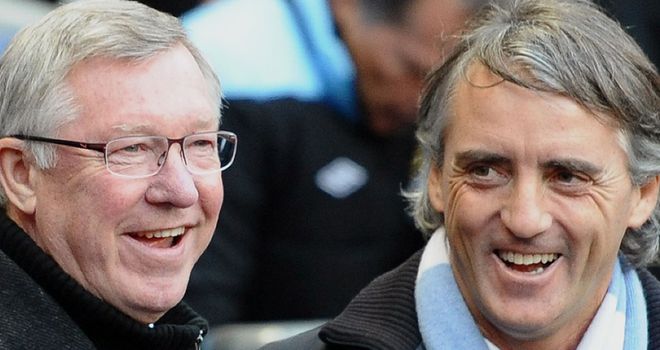 Manchester United have already qualified for the last 16 of the Champions League after comfortably finishing in top spot in their group with two games to spare.
Meanwhile, City know they must defeat Borussia Dortmund in Germany to have any chance of finishing in third place and making the Europa League.
And Ferguson claims Mancini will do well to keep all his players happy in the new year if they are not playing in European competition.
The United boss told The Sunday Mirror: "The Europa League has been a failure if you look at the way our league clubs have treated it. But I don't think losing is ever healthy for a big club and City need to beat Dortmund.
"On the one hand you can play a fresh team every week for the rest of the season if you are not in the Europa League, but how do you keep all your players happy?
"They are out of the League Cup and the Champions League - and for a club of that size it means they've not got enough games to keep the momentum and the interest going.
"There's nothing better than big European nights. I think back to some of the quarter-finals and semi-finals we've had in the European Cup and they were unbelievable games.
"I think of the year we won it and played Inter (Milan) and Juventus, and the match against Barcelona when Paul Scholes scored that fantastic goal... you cannot beat it.
"I don't know enough about City's players. I've not worked with any of them, apart from Carlos Tevez. But sometimes players want to play every game.
"I've got that with Wayne Rooney. If he misses one or two games it takes him three games to get back. Some players have to play every week. It's a fact.
"Yes, you'd have them fresh for league games and you would have more time for training. But you would have to deal with the fact that you've not got European football. Every manager wants to do well in Europe - I do, anyway."