Manchester City's Roberto Mancini responds to Sir Alex Ferguson penalty claim
Manager Roberto Mancini has cranked up the mind games with Sir Alex Ferguson ahead of Sunday's Manchester derby.
Last Updated: 09/12/12 4:16pm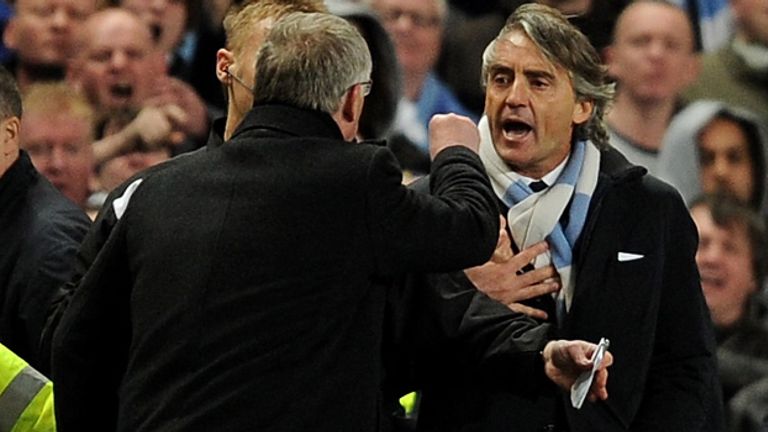 Ferguson accused their neighbours and arch-rivals on Friday of winning too many penalties at home, saying "there'd be an inquiry in the House of Commons" if United were awarded as many.
Ahead of the much-anticipated showdown at the Etihad Stadium in Sky's 1.30pm kick-off, Mancini could not resist responding by taking a swipe at United winger Ashley Young.
"I remember very well last year, when Young went swimming in the...I think four or five times in the last 10 games, and then Ferguson didn't say anything, but this can happen," the Italian said.
Young was heavily criticised for going to ground too easily against QPR and Aston Villa on successive weekends last April to win spot-kicks, with even Ferguson accepting Young was treading a fine line.
Since the start of the 2010-11 season City have had 20 spot-kicks in the Premier League at home, compared to Manchester United's 13.
When asked if he thought Ferguson's jibe was a deliberate attempt to raise tensions ahead of the clash between the league's top two sides, Mancini said: "Probably. Fergie is clever for this.
"I think in the last 15 years there have been some penalties for them. Not a lot, but two or three in the last 15 years."
In the current Premier League campaign, City have won four penalties at home, scoring three while United have missed the two they have been awarded at Old Trafford.
Arriving at the Etihad nearly seven months after losing out on the Premier League trophy on goal difference, United will be desperate for revenge and can open up a six-point gap on their local rivals at the top with victory.
"They're screaming now," Ferguson said about the team he called "the noisy neighbours" last year. "It's great. Challenges are what we're made of.
"I've been lucky that, in my time here, I've been involved with great competitions against teams like Liverpool, Arsenal, Chelsea and now City.
"There are no dull moments. We don't run from challenges."
Don't miss any live and exclusive football coverage this festive season. Click here to visit Sky Sports' Festive Calendar