Boss Roberto Mancini says Manchester City will successfully defend Premier League crown
Manchester City manager Roberto Mancini insists his team will successfully defend their Premier League crown.
Last Updated: 22/12/12 2:20pm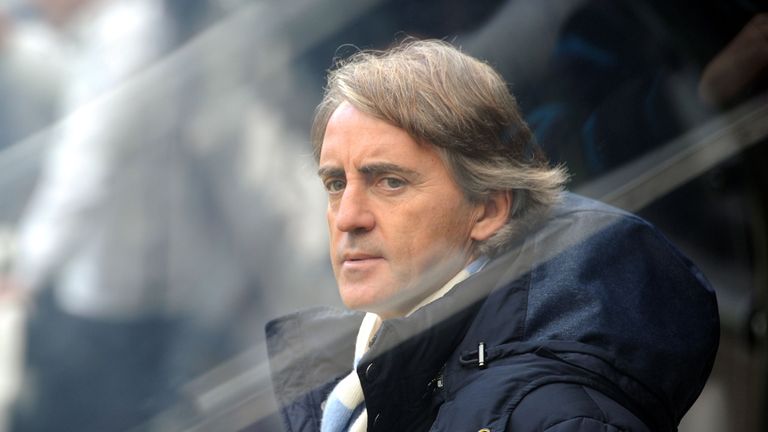 The Italian is celebrating three years in charge at the Etihad this week and would be forgiven for being a little downbeat having fallen six points behind leaders and neighbours United.
But speaking about their title chances ahead of Saturday's visit by struggling Reading, the 48-year-old said: "I think we will win.
"We have two targets and I think if we work better than the first six months and we forget what we did last year we have more chance to win the league.
"If we win this title it would be better because now we are in second position."
Mancini is not a manager used to going too long without silverware after successful spells at Fiorentina, Lazio, Inter Milan before his move to England in 2009.
Supported by the investment of the club's Abu Dhabi-based owners, City's 35-year trophy drought ended with FA Cup glory in 2011, followed by their memorable last-gasp Premier League triumph in May this year.
There have been reports of City's hierarchy keen on a new man at the helm following their recent miserable exit in the Champions League group stages.
But having signed a five-year contract last summer, Mancini seems keen on sticking around and is desperate to continue his good work, adding: "We started to win two years ago and every year we won a trophy.
"I think that is very important for us. It could be that in some seasons you can't win the Premier League but if you win the FA Cup - I think it's important to keep this habit.
"For us, it is important to win a trophy every year. If we continue to do it this way, it will be good.
"But we need to improve. It is easy to arrive on top but it will be more difficult to stay there for a long time. This is the big challenge for us.
"In football things can change in five games, 10 games. In Italy things can change after one game. Here maybe in three or four months, six months, if you don't win, every chairman can decide to change.
"But this not my problem. I work hard with people who are really good people and they always support me and the team. This is important."
One major concern for Mancini is the impending departure of Ivory Coast stars Yaya Toure and Kolo Toure for the African Cup of Nations.
"I am confident, but it will be very important in December and January when we lose players for the African Cup of Nations," he added.
"If, at the end of January we are very close with them [United], we can have a chance."