Manchester City assistant boss David Platt confident goal record will improve
Manchester City first team coach David Platt is convinced they are still in a position to defend their league title.
Last Updated: 29/12/12 2:05pm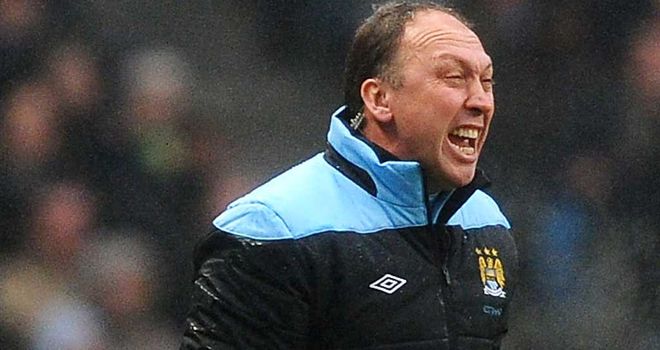 City's defeat at Sunderland on Boxing Day combined with United's 4-3 victory over Newcastle has left Roberto Mancini's side seven points behind United in the table.
A lack of goals has been the major problem for City this season. After 19 games last season they had scored 53 goals and were top of the table, but at the same stage this campaign they have managed just 34.
But speaking ahead of Saturday's trip to Norwich, Platt remains confident they have enough strength in depth to catch up and keep pace with their city rivals.
"Seven points is a significant amount, there's no doubt about it. United are in the driving seat but there is half a season to go," he said.
"I don't think it is insurmountable by any stretch of the imagination. It's not as though we are playing badly. We feel as though we are playing well, we are producing efforts on target.
"We are dominating possession and every statistic in most games, except goals."
Chances
Mancini claimed his strikers had been "maybe too soft" after their defeat at the Stadium of Light.
Platt insists the Italian simply meant his forwards had failed to take chances rather than suggesting they were lightweight, with the former England player convinced they will soon enjoy an upturn in fortunes in the final third of the pitch.
"I don't think he means soft - sometimes it can be lost in translation," Platt said of Mancini's comments.
"In the last few games we have produced enough efforts on goal but if you correlate the statistics, we should be scoring more goals.
"These things have a habit of balancing out over the season. Goalscorers usually have the same quota that they had (in previous years).
"I think if you asked them they would be disappointed but goalscorers go through barren spells. It is just unfortunate that at the moment all of them seem to be having one at the same time.
"It's not just them. Compared to the number of goals we scored last season we are significantly down but that is all around the pitch.
"We have got to produce better chances and we have to put them away."