Roberto Mancini says Manchester City will appeal against red card shown to Samir Nasri
City boss Roberto Mancini will appeal against Samir Nasri's red card that marred their thrilling 4-3 win at Norwich.
Last Updated: 30/12/12 8:11am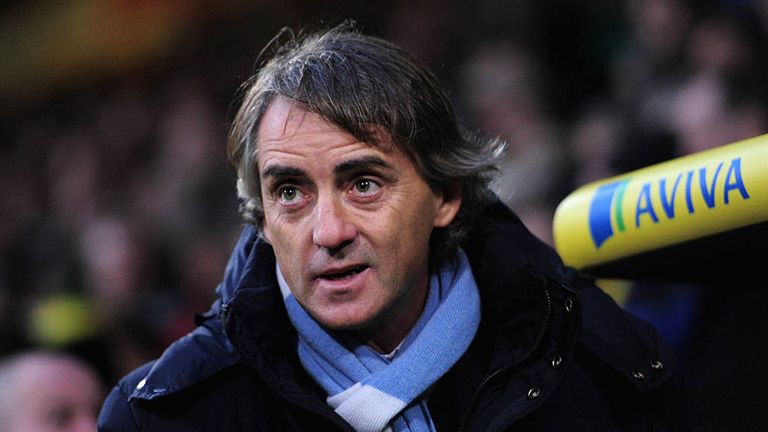 Nasri was dismissed just before half-time at Carrow Road after a head-to-head confrontation with Sebastien Bassong, and although it did not cost City, Mancini was upset with the decision after the game.
Edin Dzeko scored twice in the first five minutes but the reigning Premier League champions were forced to hold on after Russell Martin's second goal of the game set up a tense final 15 minutes.
Mancini, whose side remains seven points behind Manchester United, said: "It (the red card) changed the game. If not we would have won this game without a problem.
"With 10 players it is difficult as Norwich is a good team - 11 against 10 is not easy, but today we showed why we are there for the title because we won't leave this title easy and we'll fight every game. With 10 players the guys were fantastic.
"It was not a red card. I cannot understand why the linesman said to the referee it was a red card because I was there and Samir did nothing.
"Both players came forward with their heads, so if you are going to send off one, then you have to send off both, not only Samir. Samir said he touched his head, okay, but the other player has done the same.
"The linesman has a big responsibility also, because it was not a good decision, it is incredible. You want to send off both players? Then, okay, the referee was there, he saw everything. The linesman was behind [the players], he could not see. We will appeal, sure.
"At Sunderland we played well, we deserved to win and we were missing only a goal. We had 23, 24 chances to score and we don't score. In the end we lost, but that is now in the past and we won this game - an important game.
"We played very well and played fantastic football for 20 minutes. Dzeko scored two important goals and I am happy. I was happy after Sunderland as well when we were missing only a goal. Carlos (Tevez) played well, Sergio (Aguero) played well and clearly when the strikers score it is easy for us.
"For us, now it is not important to look at the table because now we need only to work, to win many games in a row and then maybe in February we can look at the table."