Roberto Mancini believes Mario Balotelli will stay at Manchester City
Roberto Mancini believes Mario Balotelli will stay at Man City but has warned the striker to improve his attitude.
By Nadia Carminati
Last Updated: 31/12/12 6:17pm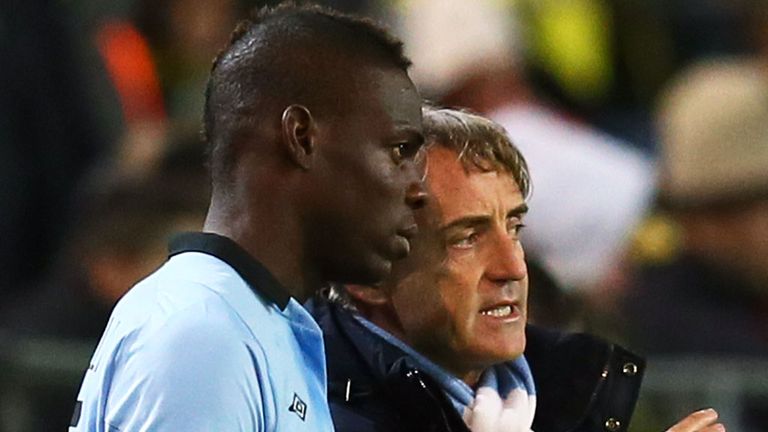 Balotelli, whose time at City has been full of highs and lows since he joined from Inter Milan in 2010, has struggled to make an impact this season, scoring just one Premier League goal, while he was also recently fined for indiscipline by the club.
He has taken a back seat to fellow strikers Carlos Tevez and Sergio Aguero in recent weeks and has been linked with a January move away from the Etihad Stadium, with AC Milan thought to be interested.
Mancini expects Balotelli to remain at City but says his future is in his own hands, and has told the Italy international to clean up his act.
He told Gazzetta dello Sport: "The time of talks and allowances has ended. Balotelli is aged 22 and it's time for him to be professional.
"I ask of him engagement and seriousness in his training, a regular private life and correct behaviour on the pitch.
"The relationship between he and I is always good even if every day he does something. I have affection for him because we've lived together for many years. But the professional relationship is another thing and, from now, Mario knows the facts."
Mancini added of the transfer speculation surrounding Balotelli: "I think Mario will stay but the future is especially up to him.
"Sheikh Mansour likes Balotelli.
"Another consideration that must be made on Mario is that an important investment has been made and this isn't a club that throws their capitals out of the window."
Balotelli is currently recovering from a virus which is likely to rule him out of the New Year's Day clash at home to Stoke but Mancini says he could be named as a substitute.
He added: "Mario feels better now. He's restarted training and against Stoke City he could go on the bench.
"Otherwise he could play against Watford (in the FA Cup) on January 5th."