Roberto Mancini hopes his praise of Robin van Persie spurs on Manchester City strikers
Roberto Mancini hopes his recent praise of Robin van Persie has motivated his Manchester City strikers.
Last Updated: 13/01/13 3:11pm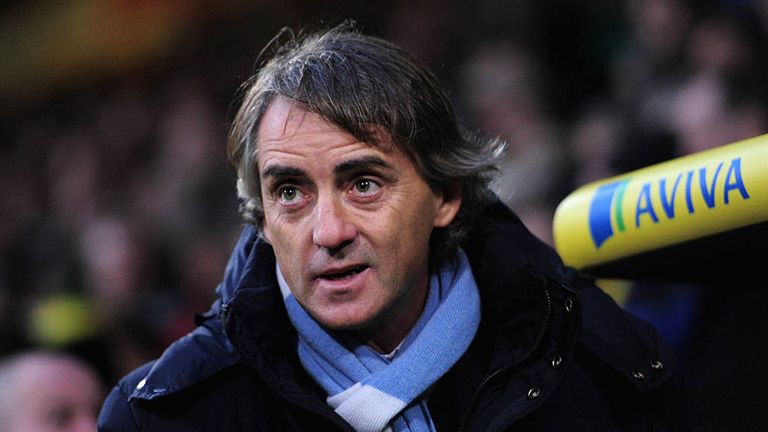 The City manager claimed the Dutchman, who he had been close to signing last summer, was now the main difference between them and rivals Manchester United, a remark that came alongside recurring criticism of his own forwards.
Sergio Aguero, Carlos Tevez and Edin Dzeko had all been quiet in front of goal but their latest performances have hinted at a return to form, and Mancini now hopes they can build momentum.
"I continue to talk about Van Persie and other strikers," he said.
"If we score two or three goals with our strikers, and if we talk about other attackers, I continue to talk.
"I hope we start to score with our strikers, this is very important for us.
"If Dzeko, Carlos, Sergio and Mario (Balotelli) continue to score, I think we can change this."
City have still scored 16 goals less than they had at the same time last season, something that Mancini puts down to the nature of the game.
"For every striker maybe there are some moments where maybe you don't score and you don't know why - this is football," he said.
"Last year we scored a lot of goals, maybe too many goals. This year we are missing maybe 15 goals from last year but it is important that Sergio, Carlos and Edin scored goals in the last two games."
Mancini again backed Mario Balotelli who, after missing four games through illness, came off the bench against Watford and scored twice in an unexpected outing for the Under-21s on Monday.
When asked if this was a fresh start for the striker, Mancini said: "Next question! No, I hope.
"He went with the Under-21s because he needed a game.
"After 40 days without a game, he needed one game. He trained well and I hope this year will be different."
Arsenal v Manchester City is live on Sky Sports 1 this Sunday. For more details click here