Manchester City confirm appeal against Vincent Kompany's red card at Arsenal
Manchester City have lodged their appeal against Vincent Kompany's red card against Arsenal.
Last Updated: 14/01/13 7:56pm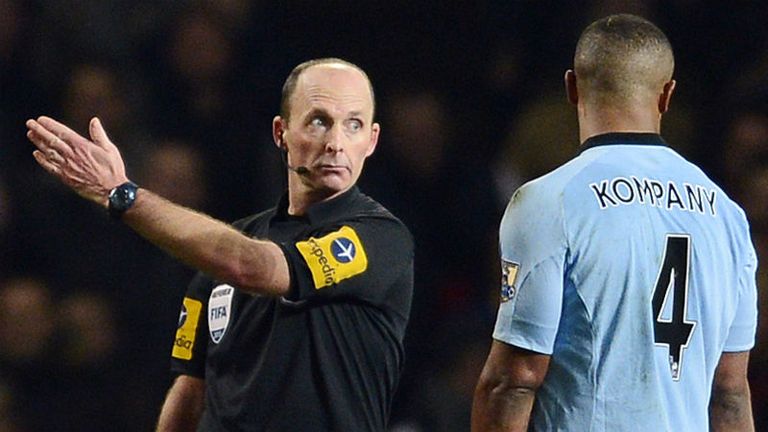 The City captain was sent off towards the end of Sunday's 2-0 win at the Emirates after referee Mike Dean ruled he had tackled Jack Wilshere with two feet.
Kompany faces a three-match suspension that would see him miss games against Fulham and QPR in the Premier League, and Crystal Palace or Stoke in the FA Cup fourth round.
That ban could be increased if the Football Association deems the appeal frivolous but boss Roberto Mancini said after Sunday's match he was confident Dean's "big mistake" would be overruled.
The Belgium international defended himself on Twitter and posted a photo which appeared to show one of his feet being on the floor as he made the tackle.
"No grudges against the referee, I understand the difficulty of the job," he wrote. "About the tackle: If the ball is overrun by the opponent and a 50/50 challenge occurs, collision is inevitable.
"Ultimately I'm a defender: Appeal may work or not. I will never pull out of a challenge, as much as I will never intend to injury a player."
Speaking after the game, Mancini questioned the decision and claimed Kompany had not even committed a foul when challenging Wilshere.
"We will appeal, because it is impossible that we can lose one player for three games for nothing. It is not a red card, it is nothing," he said.
"He went into the tackle, anticipating the opponent and took the ball before.
"I don't know how it is possible to get a red card like this. It was no foul, no red card."