Manchester City manager Roberto Mancini hits out at new FFP rules
Manchester City manager Roberto Mancini has hit out at the Premier League's new financial fair play rules.
Last Updated: 09/02/13 10:45am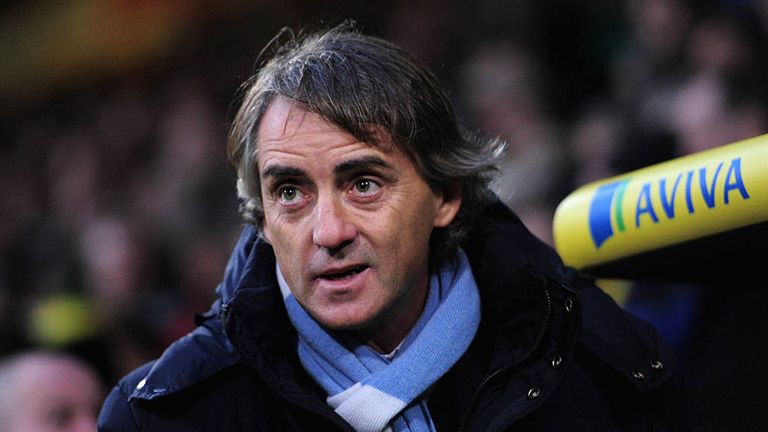 City voted against the implementation of the spending restrictions, but the new regulations were passed with the required two-thirds majority by club bosses on Friday.
Clubs will now only be able to incur losses over a three-year period of £105m, while those with annual wage bills in excess of £45m can only increase them by a maximum of four per cent.
But Mancini said: "I do not agree. If I am a rich man, I want to spend all my money on my team."
Sheikh Mansour vast financial input over four years helped take City to the Premier League title last season, but Mancini will now have to be far more restrained in the transfer market.
"We can't change this," he added. "If these are the rules we should work with them. It is normal. We need to buy good players, If you want to buy good players you have to spend money.
"This isn't only the situation for us, it is the same for every team. But if we work well and work quickly in February, March and April, we can find good players without spending £30m.
"Every time Manchester City move for a player his value goes up. If a normal club that doesn't have a lot of money to spend wants to buy a player it might cost them £8m. If Manchester City move for the same player the club asks for £25m or £30m.
"There should be other rules for this."
Mancini's views are in contrast to Sir Alex Ferguson who believes the Premier League could encounter difficulties applying new spending controls.
The Manchester United manager said: "It's all good in theory but the application of it will always be difficult. If people have money to burn they can place it anywhere in the world.
"I'll be interested to see how they think they can operate it. It would be good if it was applicable but I have my doubts. I think it's always going to be problem to try to enforce it."
Under the measures, clubs whose total wage bill is more than £52million will only be allowed to increase their wages by £4million per season for the next three years, though that cap does not cover extra money coming in from increases in commercial or matchday income.
Arsenal have also pushed for financial fair play, but Gunners boss Arsene Wenger said he favoured more individual freedom for clubs.
He said: "I personally am for financial fair play in the way that companies and the clubs respect to manage the club with their own resources.
"For the rest I am for freedom, how you use your resources inside the club. I am not in favour of a Brussels-type of society with centralised control with complicated rules. I believe every company should live within its own resources. For the rest, leave it to the company to manage their company how they want to do it.
"It is nonsense because we live in a world where, if you look at Europe, most of the countries are in a very difficult financial position and I believe the minimum we can do in our world is respect the financial balance."
To find out more about live football on Sky Sports, Click here