Roberto Mancini calls for Manchester City players to respond
Roberto Mancini wants Man City to take responsibility after seeing their title defence suffer a potentially fatal blow.
Last Updated: 11/02/13 10:24am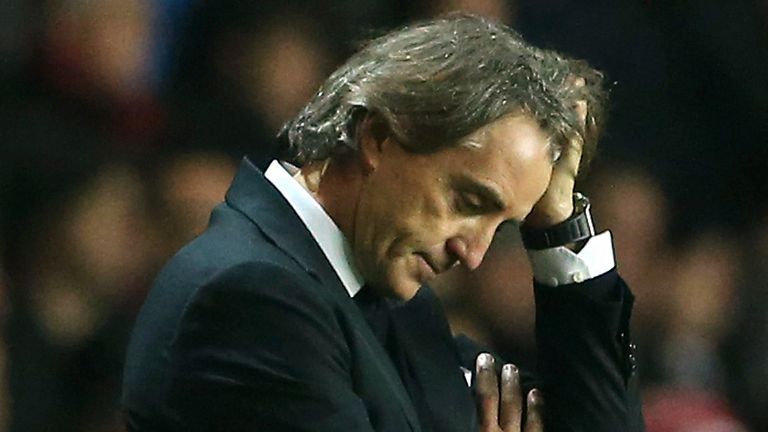 The reigning champions headed to St Mary's on Saturday nine points behind leaders Manchester United and in desperate need of victory.
However, City buckled under the pressure, putting in what Mancini described as a "worse than poor" performance as Southampton ran out 3-1 victors.
United's victory over Everton on Sunday means City are 12 points behind with just 12 games remaining, and Mancini expects a response.
"When you play football and you are a top player, you should take your responsibility, always," said the City boss.
"It's not always the fault of the manager.
"The players should take responsibility - if they have big balls. If not, they can't play in a top team."
Miserable
This season has proved difficult for City, with their slip in the title race compounded by a miserable Champions League campaign in which they finished bottom of their group.
Mancini does not think there is any danger of third-placed Chelsea, four points behind, beating them into runner-up spot, but admits it has been a hard season.
"For a team like us which has won the title, won the FA Cup, won the Charity Shield after 38 years, it's normal the year after as champions could be difficult," said the Italian.
"But probably because we did some mistakes in the summer and we didn't improve our team. But now we have good players and I think we shouldn't do a match like this."
Asked if he regretted not making better signings in the summer, he retorted: "No, no, now we can do nothing about that.
"But in this moment we should do more because we have 12 games, we should get the maximum points we can get, we have the FA Cup and this season is not finished.
"I don't want to see a player like we saw. A player who plays like that should stay at home, not even be on the pitch.
"Usually, we play well and even when we don't play well we put everything on the pitch but we didn't even for that.
"That's the problem. Only this. They played better than us, they deserved to win, congratulations to Mauricio Pochettino, to Southampton, but I am very disappointed with our performance."