Cristiano Ronaldo rules out Manchester City move as his heart belongs to United
Cristiano Ronaldo admits he would find it impossible to turn out for Man City because his heart still belongs to United.
Last Updated: 13/02/13 3:39pm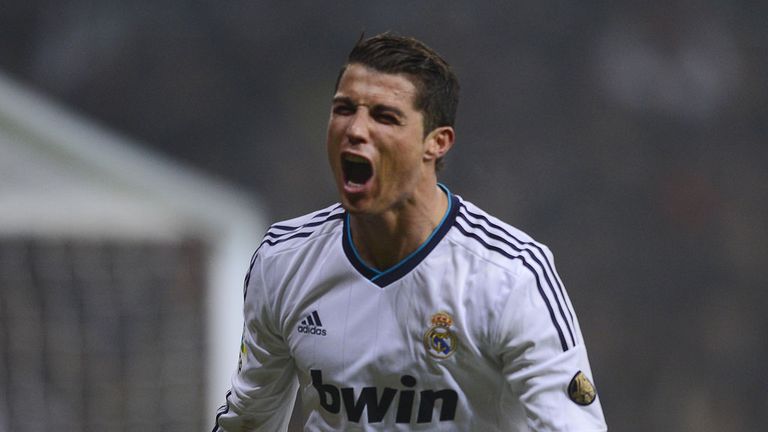 The Portuguese superstar spent six years at Old Trafford prior to making a record-breaking switch to Real Madrid in the summer of 2009.
Ronaldo has enjoyed four goal-laden years in Spain, but speculation regarding his long-term future at Santiago Bernabeu has intensified this season.
Few clubs could afford to acquire his talents, but reigning Premier League champions City are among a select group of clubs who possess the riches required to make a deal happen.
Ronaldo has, however, attempted to bring an end to the rumours suggesting he could return to Manchester in blue rather than red.
Ahead of Real's UEFA Champions League clash with United on Wednesday, Ronaldo told The Sun: "To play for City not United? I'm not going to do that. Why? Because my heart's in Manchester United, that's why.
"I can say it would be very, very, very, very, very, very, very, very, very, very, very, very difficult to play at Manchester City. Very difficult because of Manchester United."
Ronaldo, despite claims earlier in the campaign that he was feeling unsettled in Spain, insists it is his intention to honour his contract in Madrid, but he has refused to rule out the possibility of making an emotional return to Old Trafford at some stage in the future.
He added: "I am a player of Real Madrid and I'm happy here, my family is happy and everything is going well for me here. The future? I don't know - only God knows the future.
"I can't say I'm never going back to Man United, but I can say I'm good here and I want to be here.
"Let's leave it at that and see what God gives me in the future, but I repeat I am happy here at Madrid."
You can only watch the best UEFA Champions League coverage here on Sky Sports. Watch Real Madrid v Manchester United exclusively live on Sky Sports 2HD and Sky Go from 6:00pm on Wednesday 13th February. Click here for more details and watch goals from United's route to the last 16.