Roberto Mancini taking Manchester City's FA Cup clash with Leeds seriously
Roberto Mancini will keep changes to a minimum for Manchester City's FA Cup fifth round clash with Leeds.
Last Updated: 17/02/13 1:09pm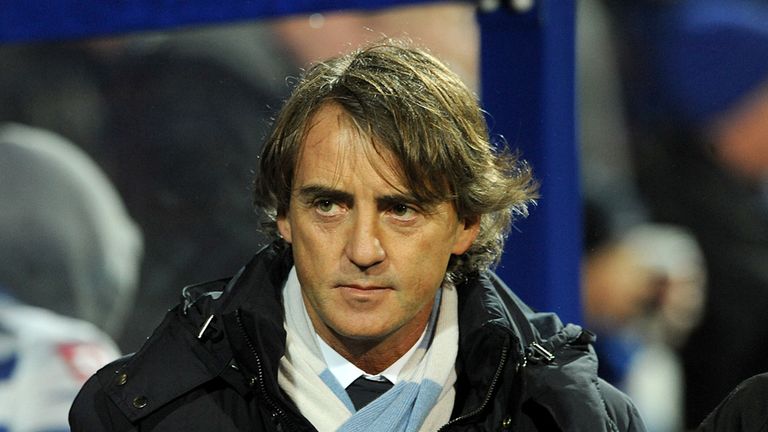 The competition could be City's best chance of a trophy this season after falling 12 points behind United in the defence of their Premier League crown.
Earlier this week, Mancini rubbished suggestions he might be facing the sack if City were beaten at the Etihad, but he is aware of the importance of the game and is keen to avoid their season disintegrating.
"We play with the best team. I will do some changes because I have two or three players injured but after that, I will play with the best team," he said.
Among the changes he will make is in goal, but Mancini says nothing should be read into Costel Pantilimon starting ahead of Joe Hart, who came in for some sharp criticism for his howler in the 3-1 defeat at Southampton.
"I will play Costel like always in the FA Cup. Costel is a good keeper, he deserves to play. He always does in the FA Cup and he did well against Stoke," Mancini continued.
"For a keeper it's normal sometimes to make a mistake. If the keeper makes a mistake you lose a game but if the striker doesn't score a goal, maybe you can draw 0-0. Their job is difficult because of this.
"I said I was disappointed with them because they played a bad game. I don't think a team like us can play a game like this. We can lose when the team we play perform better than us, but not like this because a team like us should be trying to score, score, score.
"We did very, very badly. We didn't play as a team, we didn't fight for every ball. Sometimes it is impossible to win all the games because we are a better team.
"Sometimes it is important to fight because we can win 1-0 - not because we played better. It is impossible to play all of the games better than your opponents."