Jack Rodwell keen to model his career on Vincent Kompany's at Manchester City
Manchester City youngster Jack Rodwell hopes his career can take a similar path to that of captain Vincent Kompany.
Last Updated: 20/02/13 9:02am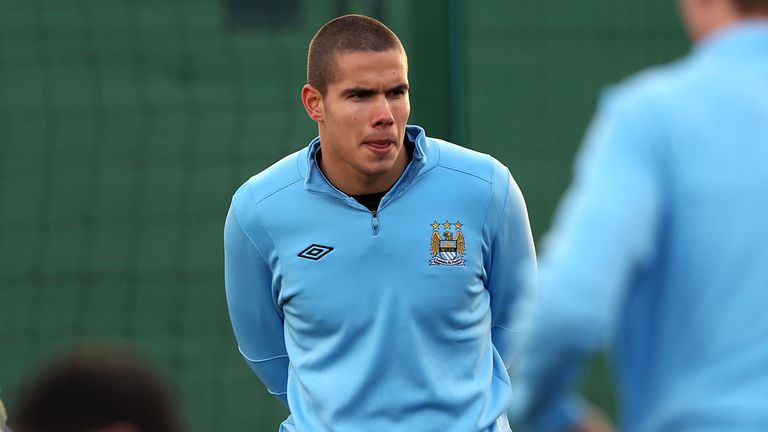 England international Rodwell, who arrived in Manchester from Everton in the summer, features primarily as a midfielder but has also been used at the heart of defence.
The 21-year-old is keen to model himself on influential skipper Kompany, who started out in midfield before establishing himself as a centre-half.
Rodwell, who played 30 minutes of City's 4-0 FA Cup thumping of Leeds on Sunday, told The Guardian: "Any player at City is prepared to play anywhere, and I'm no different.
"Midfield, defence, I have even played out wide for Everton, so I will do a job anywhere and give 100%.
"Vinny is a good player, and I look to him, watch his game and would definitely take the same path as him. He started out in midfield and is now one of the best centre-halves in the world."
A series of hamstring injuries have hindered Rodwell's progress since he joined City but the youngster is determined to put that period behind him.
The midfielder, who has made nine appearances for the reigning Premier League champions this season, added: "That has been my main problem for the last year or so, an inability to stay fit and shrug off little injuries.
"That has held me back, and I think if I can stay fit, the games will come."
"I have stuck to a six- or seven-week programme where I have not had a day off. I have hammered the work, done a lot of hamstring work and luckily, touch wood, it has worked. I intend to keep that up for the rest of my career.
"I come in early every day, have a load of treatment and then for half an hour before training I work on my own. Then after training, if necessary, I stay for some more strength work, so all in all I probably do an extra hour and a half.
"I do yoga as well, two or three times a week, depending on how my body is feeling. It may be down to the way I was growing, as I was only 20 to 21, and hopefully I have finished growing."