Manchester City's Roberto Mancini likes Edinson Cavani and Radamel Falcao
Roberto Mancini does not want Manchester City to repeat transfer mistakes when they could chase Edinson Cavani.
Last Updated: 23/02/13 4:22pm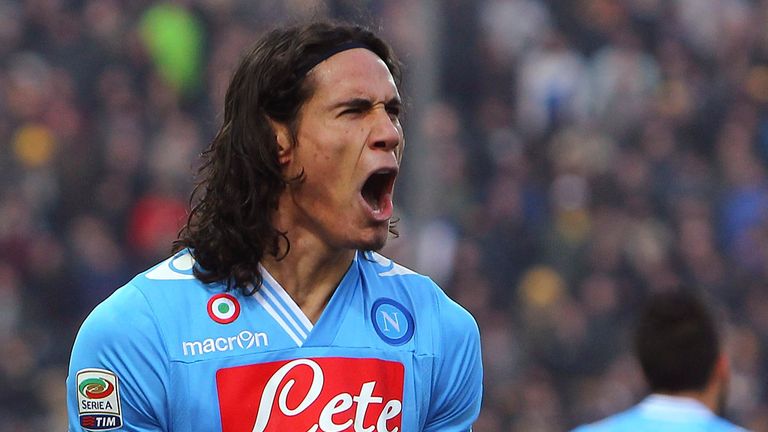 The Italian manager has never made any secret of his frustration at his club's failure to secure his top targets in the summer of 2012 after winning the Premier League title.
Mancini has tended to list transfer errors as a reason why City currently trail Manchester United by 12 points at the top of the table, a position which has led to speculation about his own future.
But the 48-year-old remains focused on the job at the Etihad Stadium and wants improved business this summer, when Napoli striker Cavani and Atletico Madrid's forward Falcao could be chased along with Santos' Neymar and Liverpool's Luis Suarez.
Asked about Cavani, Mancini said in The Guardian ahead of Sunday's crucial game against Chelsea: "I like him but all the world wants him. There are big players.
"I don't know what can happen. Suarez plays for a top team like Liverpool. Cavani plays for Napoli. There's Falcao but, again, all the managers like him.
"Neymar is a good player, he's young, but I don't know if he's ready to play in England, because the football is totally different.
"I think he will go to Barcelona or (Real) Madrid where the football is more technical. But Cavani and Falcao would work in England.
"They have experience. Both players are 26, 27. They are good enough to play in England."
New chief executive Ferran Soriano and director of football Txiki Beguiristain will be heavily involved in any transfer business having replaced Brian Marwood in a reshuffle at City.
Mancini suffered a breakdown in his relationship with Marwood last summer and has again never hidden this fact.
"It's important to realise we have made some mistakes," said Mancini. "I have made some mistakes and the players have made some mistakes.
"But the first reason is because we didn't do what we should have done in the summer transfer market - we worked really badly in the market."