Roberto Mancini stands by criticism of his Manchester City players
Roberto Mancini stands by his recent criticism of his Man City squad and stressed his players must take responsibility.
Last Updated: 04/03/13 7:20pm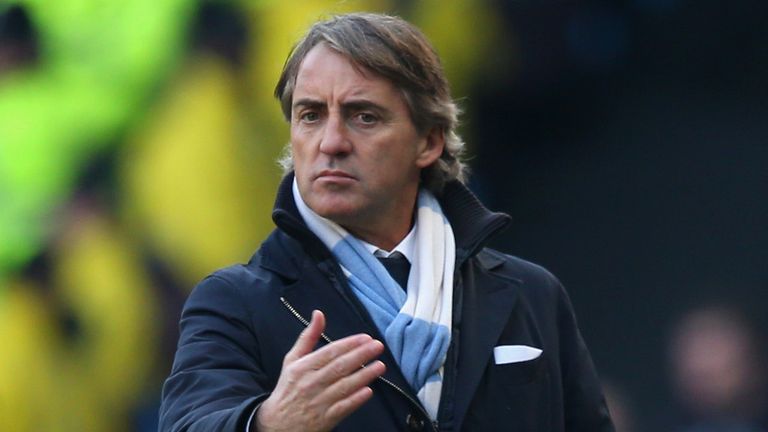 In the wake of City's shock defeat at Southampton last month, Mancini accused Samir Nasri of resting on his laurels and warned goalkeeper Joe Hart that he would be axed unless he cut the errors out of his game.
The comments appeared to work as City followed up an FA Cup fifth round win over Leeds United by beating Chelsea 2-0 at home in the Premier League.
City now face Aston Villa on Monday night, with the defending Premier League champions trailing local rivals Manchester United by 15 points and Mancini wants to continue assessing his players' character.
The Italian said: "I say what I think and sometimes it's important that one player takes his responsibility because when you are a top player you earn a lot of money and you should play at 100 per cent always.
"When I was a player I always took responsibility. When I didn't play well, I said, 'Sorry I didn't play well and will do my best in the next game,' and it should be like this.
"I don't like players that never think it's their fault. These players can't play with me because this is impossible.
"I want strong players that are upset with me when they don't play but after that show me on the pitch that they deserve to play."
City have found it difficult this season to live up to the lofty expectations they created for themselves by winning last season's championship in such dramatic and exhilarating fashion.
United's form since winning the derby at the Etihad Stadium in December has been relentless and City have not only been unable to claw back the difference, but have fallen further back.
Yet finishing second would still be no mean feat for a club that have come as far as City have in such a short time and Mancini acknowledges that.
He said: "It's difficult to win a championship here. We won last year but we won very quickly.
"Usually when you manage a team that hasn't won for 40 years, I think that you need four, five or six years to win a Premier League.
"We won the championship after two years and it's clear it's more difficult the year after, but we had the chance."
Mancini has stated often enough in the past month that he has not given up the chase and, if so, City cannot afford to drop points at Villa Park.
The Blues lost to another relegation-threatened side in Southampton last month and a similar result would be unthinkable.
City are again likely to be without captain Vincent Kompany due to his calf problems but midfielder Gareth Barry is fit to face his former club after an ankle injury.