Roberto Mancini unsure of Carlos Tevez's long-term Man City future
Roberto Mancini has admitted he does not know what sort of commitment to expect from Carlos Tevez beyond the summer.
Last Updated: 09/03/13 10:47pm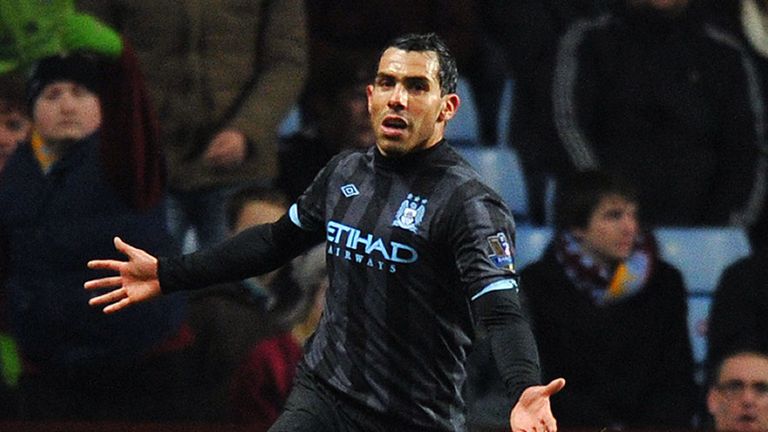 The striker was in inspired form as City crushed their Championship opponents 5-0 to book a place in the semi-finals, with Aleksandar Kolarov and David Silva also among the goals.
His long-term future remains the subject of speculation as his contract expires in 2014 and he has previously expressed a desire to return to Argentina, but Mancini is focused on what he can do for City for the remainder of this term.
"Now it is important that Carlos continues to score because we need his goals until the end of the season," said Mancini.
"After that I don't know what commitment (there will be) in the summer. Carlos has another year contract. It depends on him.
"At the moment we can say nothing. Our focus should be only on the last two months.
"Carlos has said many times that he wants to come back to Argentina and it depends on him for this, but now we don't think about this situation."
Mancini took Tevez off with 14 minutes remaining and the pair exchanged words on the touchline, but the manager insists there was no quarrel.
He was delighted with Tevez's performance and was just disappointed that fellow forward Edin Dzeko was unable to get on the score sheet.
"I asked him if he had a problem in his hamstring and he said no. That was it," said Mancini.
"I'm very sorry for Edin because it was very important in this game that both strikers scored a goal but sometimes that isn't possible. But three goals is good for Carlos."
Tevez started despite being arrested on Thursday night on suspicion of driving whilst disqualified, but there were no signs of anxiety in his performance.
Mancini joked: "I don't know about this, but if it has this effect on him I hope the police can stop him every day."