Manchester City are still the team to beat, says goalkeeper Joe Hart
Joe Hart has insisted that Manchester City are 'not a flash in the pan' and will bounce back next season.
Last Updated: 08/04/13 7:24pm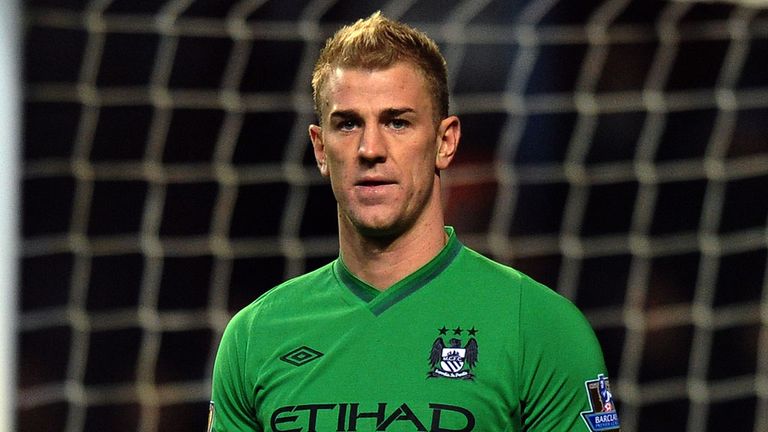 Roberto Mancini has already conceded that City will not defend their Premier League title after falling 15 points adrift of Manchester United, with just eight games of the season remaining.
Hart insists City have still shown their quality this season and could have been much closer to their rivals, but he does not want to get too downhearted and is targeting victory over United on Monday.
"We've not fallen away," said Hart. "People will say it's a massive backward step not winning it, but it's not that.
"We're still the side to beat, still competing with every game, we've still kept our respect and dignity and we'll come again. We're not a flash in the pan.
"It's just we've not quite finished teams off and little things haven't gone our way.
"But we have other things we have to keep an eye on and hopefully the season will end in a positive way for us. Monday is a big game for us. We owe it to our fans to put on a performance.
"We've not given them the highs of last year but hopefully we can give them a good couple of results and repair a bit of the damage.
"Your standards have to be higher. You have to keep readjusting them. It's not a case of intending to win the league and, when you've done it, saying 'Right, that's it'.
"You have to keep reassessing. Every time we've had to take a step backwards we try to take a couple forward and we've been quite good at that."
Learning
City have produced a number of scintillating performances this season but at other times they have not quite been at their best and Hart has been frustrated that they have not always been able to grind out results.
"In various games we just haven't done it," said Hart. "Every team will say you need at least eight performing and sometimes we haven't had that.
"Other times we've had all 11 performing in one game and won easily, rather than balancing it out, which was maybe the case last season.
"We're still learning, but would like to learn fast. When we have had a backwards step we try to push on.
"Sometimes we just needed a bit more, while we had too much in some games and not enough in others. We're still in the FA Cup and have second place to cement, so there's plenty to play for, but we'd prefer to be snapping at United's heels."
Hart has faced criticism at times this season, notably after his performance in the 3-1 loss at Southampton, but he remains unmoved by the flak.
"You move on and get on with it," he said. "It was pretty obvious what went wrong - a schoolboy would have been disappointed, let alone myself.
"The only things I can look at when I do something like that are: Have I prepared right? Of course I have. Did I do my best? Of course I did.
"It happens sometimes. If you have done something wrong you take the criticism from those who matter to you, and everyone else is free to speak how they want to."