Roberto Mancini says Manchester City are trying to spend less money
Roberto Mancini is already working on his summer transfer targets and insists Man City are trying to spend less money.
Last Updated: 08/04/13 7:24pm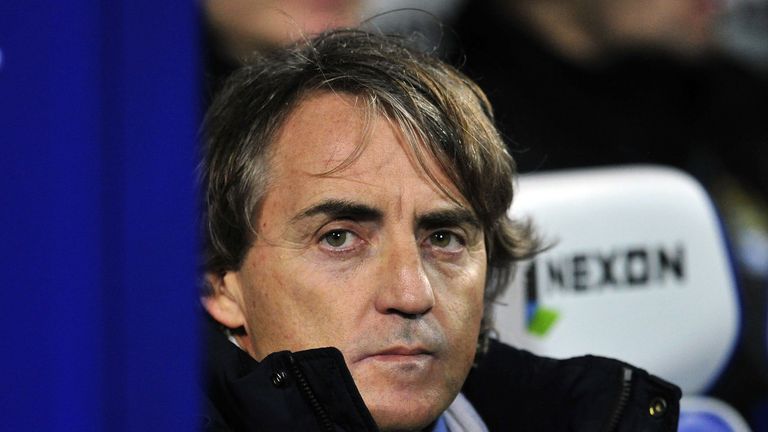 The Premier League champions have consistently forked out large sums on players since Sheikh Mansour's takeover in 2008 and were rewarded last season with the title.
However, City trail local rivals United by 15 points in this term's championship battle ahead of Monday's Manchester derby and it has prompted speculation of another summer spending spree by Mancini.
The Italian is determined to improve his squad at the end of the season, but is hoping City can eventually be in a position to make only minimal changes on an annual basis.
"We are not like United," said Mancini. "They have a big history and we need a lot of years to compete with this.
"We need to improve our team every year and in the summer we need to buy the players who can make the difference, important players that can improve our team.
"We have our targets in the summer and we are already working on them.
"I don't know how much money we can spend but in the past United did spend a lot of money to buy important players. Now they don't need to spend £100million every year.
"United are a top team and they just need to buy one top player every year because they are strong.
"It is different for us. We need to do it this way and maybe in the next three or four years we need only buy one player in the summer because we have a strong team.
"It is impossible to say how much we will spend. We could find a player we need to spend only £1m on.
"We want to spend less money if possible but every time we go to buy one player the price is high. We try to spend less but we can't."
Mancini also reiterated his view that Robin van Persie has made the difference in the title race after the Dutch striker opted to join United rather than City last summer.
The City boss added: "United improved their team and bought important players.
"They bought Van Persie, who has scored important goals. That's why they've won this title, not because they've played better than us.
"United are a good team but Van Persie has made a difference. They have good players, they have Rooney, Nani, Valencia, six or seven good strikers, and they've bought Van Persie who has scored 23 goals in total for them.
"Last year, in the end we won on goal difference. We deserved to win the title but we won on goal difference.
"But if we have the same team and instead you put Van Persie and Shinji Kagawa in United's team...We made a mistake. It can happen. We can't be perfect."