Manchester City's Javi Garcia puzzled by lost points ahead of Old Trafford derby
Manchester City's Javi Garcia says the gap at the top of the Premier League means nothing to Monday's Manchester derby.
By Tim Oscroft
Last Updated: 08/04/13 7:25pm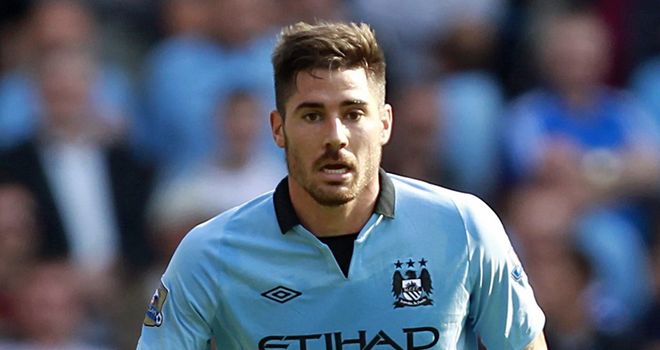 The reigning Premier League champions are in second place, 15 points behind fierce local rivals Manchester United.
The Blues have lost four games in the current campaign, including the derby at the Etihad Stadium in December when Robin van Persie's late free kick snatched a dramatic victory for United.
But points dropped in eight drawn games have not helped City's cause, although midfielder Garcia is still baffled that United can be so far ahead with time running rapidly out in the season.
"None of us can believe that we are so far behind United," said the Spanish 26-year-old.
"We won't be going to Old Trafford feeling inferior. We will be going there with something to prove - both to ourselves as players and to the fans of both clubs.
"I can't explain why we are so far behind, apart from the simple reason that we have lost and drawn matches against the so-called lesser teams.
"We have been involved in too many crazy matches and that has come back to bite us on the backside."
Serious
Monday's derby will be City's first visit to Old Trafford since their astonishing 6-1 win there in October 2011.
Garcia, who joined City at the end of last summer's transfer window from Benfica, says that the result sent shockwaves around European football.
"I didn't see the game last season when City won 6-1 because I was playing, but that result made the whole of Europe realise just how serious this club is," he added.
"If it is possible I want to repeat the same result - but for me a 1-0 win with a lucky goal in the last minute will be just as good.
"This game means more than three points. It is our chance to show that the 15 points are not a true reflection of where we are."