Roberto Mancini thinks Manchester City are as strong as league leaders
Roberto Mancini goes into tonight's Manchester derby insisting City are every bit as good as champions-elect United.
Last Updated: 08/04/13 7:24pm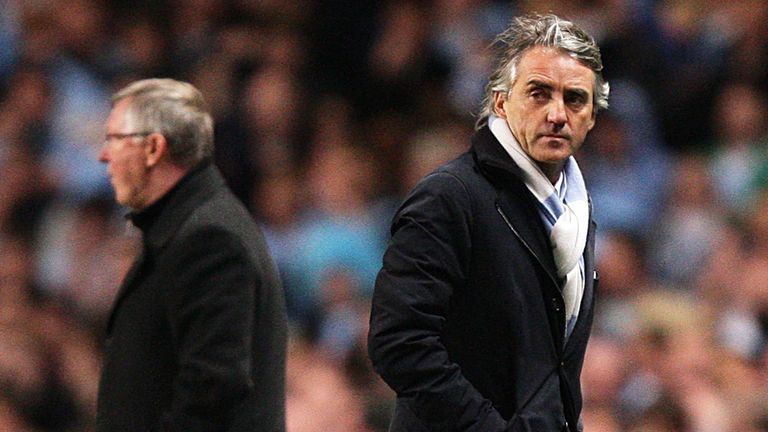 City trail Premier League leaders United by 15 points ahead of Monday's derby showdown at Old Trafford but Mancini refuses to accept their inferiority.
And the Italian claims only a failure to land his transfer targets last summer has prevented a more robust title defence.
He said: "Probably we would be on the top and could win the second title and probably we would be in the Champions League quarter-final.
"We had a chance to get three or four players who could improve our team but we didn't in the end. Now it is finished."
On United he said: "We know we can beat them because they are not better than us. This is sure, 100%.
"We deserved to win the game at the Etihad (in December, which United won 3-2 with a stoppage-time winner). Like them, we are a strong team. There is no difference.
"We are young as a team and we don't have the same importance like United yet. The history is very important. We can't do this in two years but maybe in 10 years."
And Mancini thinks the gap between the Manchester teams would be smaller if other teams put up more of a fight against Sir Alex Ferguson's side.
"No one plays well against United, because they only play with fear," said the Italian.
"Every team that plays against them plays very soft, because they think this game is difficult, and they can't beat them. Their mentality is poor.
"They think they can do nothing, but it is not true. If you play strong against United, you can beat them, like they can beat us."
However, Mancini wants to take a leaf out of United's book to ensure his side bounce back from this season's disappointing title defence.
The Italian said: "Last year United didn't win anything - Community Shield yes - but they continue to improve their team.
"This can happen, you can't win every year. This is impossible in England. For this, I think we need to do better next year."
Mancini failed to land all his prime transfer targets last summer, but with new administration at the club he is confident of doing better this time around.
City did strike one important blow last week when Yaya Toure, after speculation he could leave, signed a new four-year contract and spoke of his confidence in the club's future.
Mancini said: "This is important for the club, it is important that they sign new contracts.
"We know that we should buy important players for next year if we want to improve.
"In football you can buy good players and afterwards you don't win - this is football, it is incredible.
"But I am sure we can do well this year, we can do a good job in the market."
Ferguson's success over the past two decades has owed much to his ability to continually refresh his side.
Having only emerged from a 35-year run without a major trophy in 2011, City are still to get to grips with this process.
Mancini said: "I think we need to improve as a team, as a club, but for this we need more years.
"We can't do this in two years. For 10 years, if we improve, if we win every year, probably it will be the same also for us."