Roberto Mancini says keeping trio fit is key to Manchester City reclaiming title
Roberto Mancini thinks Man City can reclaim the Premier League title next season if they keep all their key players fit.
Last Updated: 09/04/13 7:31pm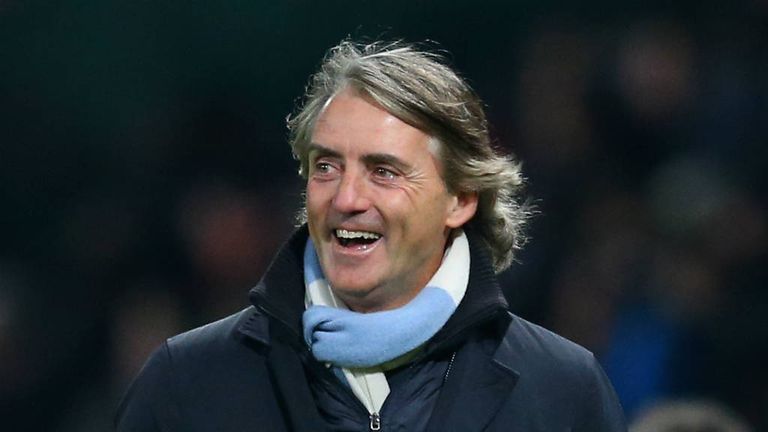 City came out on top in Monday's derby as a 2-1 victory at Old Trafford cut the gap on leaders Manchester United to 12 points, but Mancini still does not think his side can become champions with just seven games remaining.
He is certain, however, that City are capable of finishing top again next year if they keep performing like they did against United and cut out the errors.
"We know that we can win the title next year," said the Italian. "This year we did some mistakes but we can do nothing now. The season is gone.
"It is important we continue to win because we have another seven games but it does not change anything for the future.
"We need to continue to play like this for next season.
"We have two or three months where we can work well, where we can improve our team.
"I think we showed here we can't be 15 points behind."
Mancini believes City will be able to compete for the title as long as they do not lose a number of their star men at the same time.
He said: "We can't lose Yaya (Toure), (Sergio) Aguero and (Vincent) Kompany together. We are not so strong that we can lose three or four players together.
"If we lose one time Aguero or one time Yaya (it is okay), but three or four together is very difficult for us."
Silva doubt
One player who could miss City's next game is David Silva, after the Spaniard was forced off late on with a hamstring problem.
It is not thought to be a serious injury but Mancini doubts whether Silva will be available to face Chelsea in the FA Cup semi-finals on Sunday.
"I think it is a hamstring injury. Maybe it is not so bad but I don't think he will be ready for Chelsea."
Mancini was able to take a lot of satisfaction from City's performance against United, as Aguero netted a late winner after a Vincent Kompany own goal had cancelled out James Milner's opener.
"We are happy because we played very well," Mancini told Sky Sports. "This is the most important thing for us. We deserved to win.
"The game before against United we dominated that game and we lost in the end which I don't know how it's possible but this is football.
"Today was the same. We played very well, we deserved to win, but we conceded the goal because we didn't pay attention and didn't mark very well."
Asked about the title, Mancini replied: "It's finished.
"What is important is only for the second position. [If we finish] 15, 12, 18 points behind it doesn't change anything. I think that we are like them but they score more than us and this is the difference."