Man City assistant boss David Platt backs Sergio Aguero over David Luiz tackle
Man City assistant boss David Platt says he never believed Sergio Aguero would be banned for his tackle on David Luiz.
Last Updated: 16/04/13 4:24pm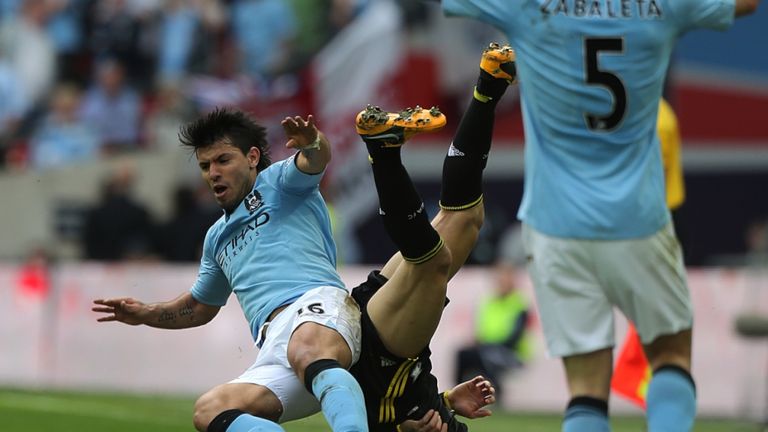 Aguero escaped retrospective action for his two-footed challenge on the Chelsea defender during Sunday's FA Cup semi-final victory at Wembley.
Referee Chris Foy awarded a free-kick at the time of the incident and the FA ruled that Aguero would face no action because the matter had already been dealt with.
Platt said: "I wasn't surprised, based on the rules the FA has put in place if the officials have seen it.
"There have been precedents set, and not only have precedents been set, they've actually gone on record and said if that's the case - I wasn't surprised.
"The rules are the rules. We don't make them up, we adhere by them."
City manager Roberto Mancini felt his team have suffered from some poor decisions this season, most notably when captain Vincent Kompany was sent off against Arsenal in January.
The defender's red card was later overturned on appeal but Platt was quick to dismiss suggestions that luck has evened itself out.
He said: "I don't know if it's luck and whether we've had it. What is luck? I am not sure.
"It is a situation that has gone. I am not surprised he has got off. They are the rules, the officials saw it."
Platt also revealed that David Silva, who missed the game at Wembley with a hamstring injury, is also set to miss Wednesday home clash with Wigan but may return against Tottenham at the weekend.
Platt said: "The game on Sunday was a bit too early for David.
"I think if we had pushed we probably could have got him ready for tomorrow evening but it would still be a risk.
"I think we will probably be pragmatic about it. We will see how he feels today but I think we'll probably give him a full week's training before the game at the weekend."