Manchester City manager Roberto Mancini keen to finish campaign on high
Manchester City boss Roberto Mancini has urged his players to finish the Premier League season on a high.
Last Updated: 27/04/13 12:15pm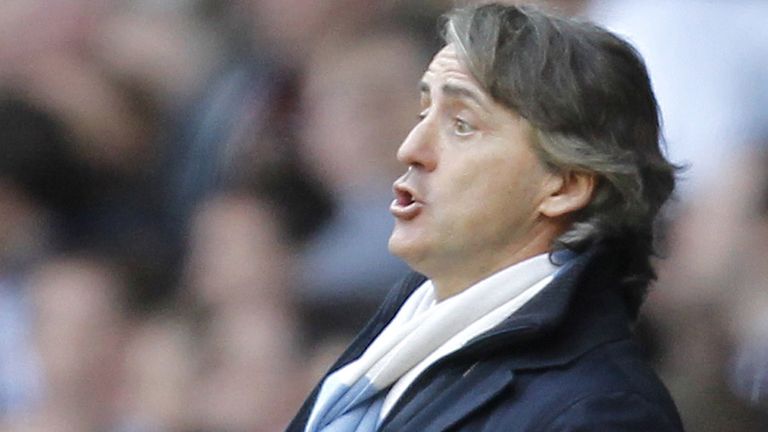 Sir Alex Ferguson's side sealed the title with a 3-0 win over Aston Vila on Monday night and the Italian admits the battle was over some time ago.
But with work still to be done to secure second place in the table and the FA Cup final with Wigan to look forward to, Mancini was keen to impress on his players they have no time to feel sorry for themselves.
First up is the visit of West Ham to the Etihad on Saturday lunchtime and Mancini is keen to reduce the 16-point gap between City and United.
"I think that maybe we made some mistakes. We did everything to win this title but they did better than us," said Mancini.
"I don't think the gap is correct but we have five games, we have time to recover six or seven points. This is possible but in the end it doesn't change anything because they deserve this.
"I think also when you win you can make some mistakes. Every day we can make a mistake. It is important you understand where we made this mistake.
"In this moment, it is important to finish well this season and then we have three, four months to improve our team."
Mancini was happy to acknowledge United's dominance this season and remained philosophical about being comfortably beaten to the title.
"It was over three, four, five games ago, not mathematically, but it was over. They deserve to win this title, many congratulations to Manchester United for the work they did this season," he added.
"They did better than us, they won a lot of games in a row, it was really difficult. We should be also realistic. If there is one team that did better than you, you can do nothing."
Mancini was frustrated in his attempts to strengthen his squad last summer and is keen not to lose out on key targets this time round.
"We are at the end of this championship, we have time, but not a lot of time. We should have our targets in mind. You should move very quickly," he added.
"We didn't do this last year. We moved so slowly. We lost the players that were our targets to improve our team. We should move more quickly.
"It is important to build your team from the basement. When you start in the market you need to buy important players that can help you."