FA Cup final: Roberto Mancini slams exit rumours after Manchester City taste Wembley defeat
Roberto Mancini feels Manchester City should have done more to stop exit rumours circulating ahead of the FA Cup final.
Last Updated: 12/05/13 1:40pm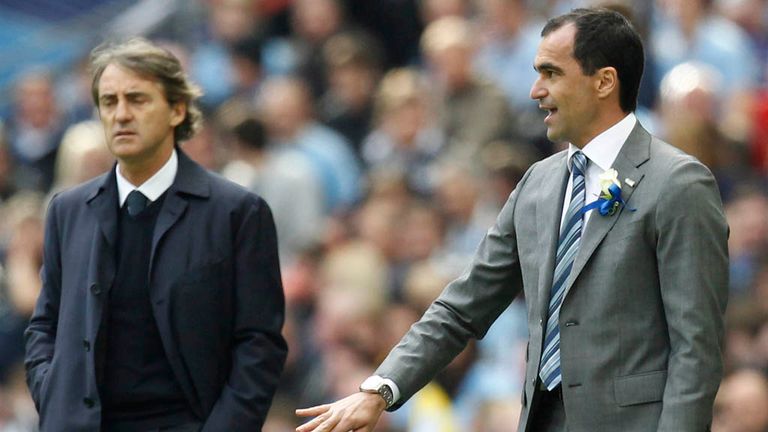 A 1-0 reversal against Wigan Athletic on Saturday means City will end the 2012/13 campaign empty-handed.
It has been suggested that a failure to land silverware - coupled with another disappointing showing in the UEFA Champions League - will see Mancini ushered through the exits this summer, with Manuel Pellegrini reportedly lined up as his successor.
The Italian is disappointed to find himself at the centre of such speculation and hopes the picture will become clearer over the coming days and weeks.
He said: "I don't know why the club didn't stop this.
"If it's true we will see in the next two weeks. If it's not true, you wrote a lot of stupid things for six months. If it's true, I'm stupid because I didn't understand anything about this.
"But I am sure I work with serious people and I'm sure I did a good job, even if we lost this final. Two weeks, maybe one week. Next Sunday. The season will finish. I will know if it's true or not."
He added: "I have a four-year contract, not one. There is no reason for me to ask. Do you think the chairman told me not to worry before the game?
"How many teams did better than us this year? Manchester United. Swansea, I don't think anyone else.
"Our target at the start of the season was to try and win the Premier League. But our mistake started in the last market. We didn't do enough to improve our team. After winning the Premier League, the second year is more difficult.
"Then maybe you don't get the Champions League. You can have a bad season. We had problems because we lost some players. We lost Yaya (Toure) for a month. We had a lot of problems this season.
"Every manager takes the responsibility. That is normal. But I don't think last year, when Manchester United lost the Premier League and didn't play in the FA Cup final they had all the discussion we did."
On a forgettable afternoon at Wembley which saw City struggle to produce their best and end with 10-men following Pablo Zabaleta's late red card, Mancini said: "We didn't play very well. We didn't play our football.
"We conceded a goal in the last second, in the last minute, which is difficult. We had three great chances to score, but they scored.
"Every time we play against Wigan they have created problems."
Bookmakers have taken huge sums on Pellegrini taking charge at City, and according to reports emerging from Spain - the Chilean coach has an agreement with City to take charge next season.
Although Pellegrini did not confirm or deny the story ahead of his team's Primera Division match against Sevilla on Sunday, he declared he and several players would not be staying at Malaga, due to the club's ailing financial situation.
He told La Opinion de Malaga: "I have already made it clear that it is not ideal to end the season in this way.
"We are in unusual circumstances. I don't think any of us really want to leave Malaga.
"Everyone would prefer to stay but unfortunately, the circumstances we are in don't allow that."
Pellegrini was relaxed about the speculation but insisted it would not distract him or the players from their attempts to secure European football for next season.
"Being linked to other clubs doesn't annoy me or make me feel uncomfortable - it's something that usually happens every year," he said. "We are just concentrating on making sure the team finishes in the European places.
"The future is uncertain for all of us, the coaching staff and players have discussed our situation but right now, Malaga's main concern must be to focus only on reaching the objectives we set at the start of the campaign."