Premier League: Brian Kidd delighted with Manchester City's response at Reading
Caretaker coach Brian Kidd was delighted to see Man City put in a positive performance at Reading during a testing time.
Last Updated: 15/05/13 6:43am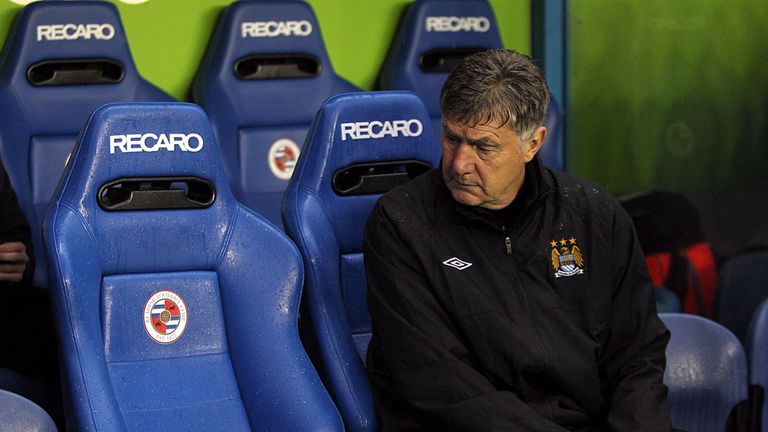 Less than 24 hours on from the revelation that the club had parted company with title-winning boss Roberto Mancini, City collected three points in a 2-0 victory at the Madejski Stadium.
A midweek win on the road saw City wrap up a second-place finish in the Premier League, allowing them to rest a little easier heading into what promises to be an intriguing summer.
Kidd told the club's official website: "To be honest, the three points was the most important thing. I think you get to this stage of the season where it's not about performances, it's about getting results.
"It was on my mind that we needed to seal that second spot in the league, that's the least we had to do.
"Everyone - the staff, the fans and the players - did it for the club tonight, so I'm pleased. It was special effort from the players and the backroom staff have been terrific as well - the support from them has been really good."
On a difficult period for the club which has seen them taste defeat in the FA Cup final and sack their manager, Kidd added: "If you were to ask me about what has gone on in the last 24 hours, it was a shock to the staff.
"I would have just taken the result tonight. If you had said to me you are going to get three points and clinch second place, I'd have accepted that - the way the last 48 hours have gone. We aren't greedy and we don't have to qualify now, we're second.
"All credit to the players, they are the ones that have had to put up with stuff off the pitch as well. I'm pleased for them because it would have been a travesty if they hadn't finished second.
"It's not me, I've just come in and been asked to take the team for two games. As a Manchester lad, I couldn't say no."
The only negative on a pleasing night for City was a first-half injury sustained by Kolo Toure, with the Ivorian defender limping off after just 15 minutes.
On the severity of that problem, Kidd said: "At the moment they don't think it's as bad as they first feared, so we'll get a better idea tomorrow."