Malaga confirm Manuel Pellegrini is leaving as Manchester City rumours grow
Malaga have confirmed Manuel Pellegrini is leaving as coach to pave the way for him to become the next Man City manager.
Last Updated: 23/05/13 8:11am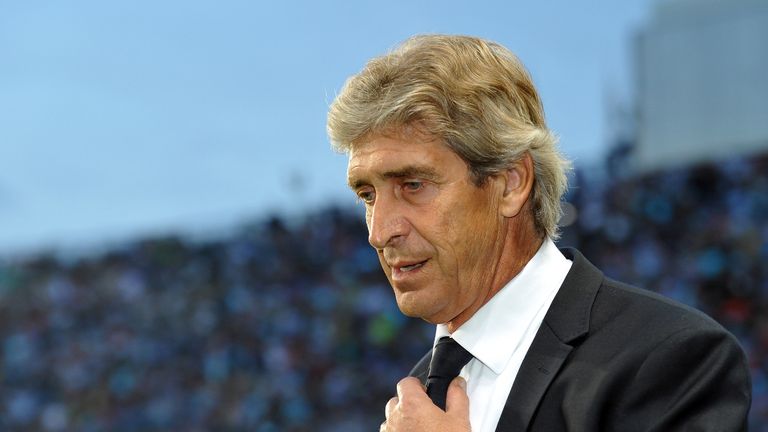 Pellegrini is the odds-on favourite to replace Roberto Mancini at City and, earlier on Wednesday, stated that he would be leaving Malaga in the summer.
The Spanish club, which reached the quarter-finals of the UEFA Champions League this season, have now confirmed Pellegrini will be moving on.
The 59-year-old has been at Malaga since November 2010 after previous spells with Villarreal and Real Madrid, and his team have two games of their season remaining, against Deportivo la Coruna and Barcelona.
He earlier outlined the reasons for his departure, and was quoted on Marca.com as saying: "My coaching staff and I are separating from Malaga but our union with this city will be eternal.
"I'm going for sporting reasons."
Pellegrini, who was speaking at a function at Malaga Provincial Council, denied earlier this month he had an agreement in place with City.
His team currently sit in the Europa League places in La Liga but are banned from European competition next season due to unpaid bills in breach of UEFA's Financial Fair Play regulations.
A further one-year suspended ban was overturned on appeal and Pellegrini said: "We leave the club qualified for Europe with the mission accomplished but it is unfortunate that this project changed.
"We had a time with the club that was very rewarding. Everyone has the right to move on.
"Sunday will be my last match at La Rosaleda and will be very exciting for me.
"I'm not leaving due to the matter of money but looking for a project that allows me to develop my profession conveniently.
"I am grateful to the directors of Malaga for trusting me but I think now the club must take another path."
Meanwhile, City chief executive Ferran Soriano has been expanding on the reasons for Mancini's dismissal and, when asked what the Italian did wrong, he told CNN: "He did very good things for the club. He stayed there for three years, which is a lot of time. He brought the club to a winning club.
"Now we are just looking for the next step, the next cycle.
"We have a fantastic squad. We want to play better football and we want to continue winning.
"It is not that Mancini did anything wrong. We are just in another cycle, in another era."
In their statement that announced Mancini's departure, City referred to the need to develop a "holistic approach" to all aspects of football at the club.
It had previously been rumoured City wanted to introduce a fluid 4-3-3 style of play to all their sides, from junior level up to first team.
When asked about that matter, Soriano said: "We are looking to play very good football, very beautiful football. When we are playing good football, then we will win.
"So it is not only about winning, it is developing football that is attractive and it will be played by our main teams, our first team in Manchester, our young teams in Manchester and also our teams in New York.
"We want to share the same football concepts across all our teams."