Manchester City's Pablo Zabaleta excited by possible Manuel Pellegrini appointment
Pablo Zabaleta has praised Manuel Pellegrini and backed him to bring success to Manchester City if he is named boss.
Last Updated: 23/05/13 8:13am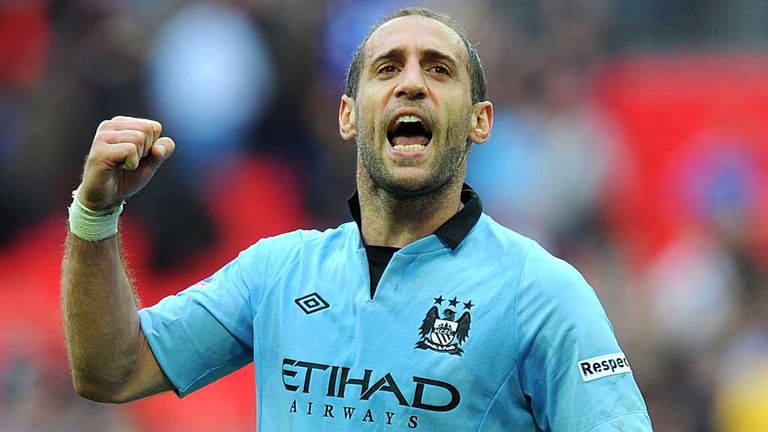 Pellegrini is widely expected to replace the sacked Roberto Mancini at the Etihad Stadium after it was confirmed he is to leave Malaga at the end of the Spanish season.
Zabaleta has long known of Pellegrini's reputation having been a junior at Argentine club San Lorenzo when the Chilean was first-team boss, and feels it would be a good appointment for City.
Speaking in New York on City's post-season tour, he said: "I have never worked under Pellegrini before, when he was at San Lorenzo I was in the second team.
"I don't know him as a person but he did well at Real Madrid, Villarreal and Malaga.
"We will see if Pellegrini signs for Manchester City.
"His way to play football is great. Somebody told me he is a great manager so we will wait to see what happens.
"Hopefully if he comes to City he can just carry on with his football."
It is Pellegrini's desire to play positive football that most excites Zabaleta, who feels the players would respond well to his approach.
He said: "He likes to play attractive football. What I saw with Malaga, whenever they played they played to win.
"This is something important for a top team. Wherever you go to play, you play to win.
"Whoever is the manager, players need to work hard.
"When a new manager comes in you need to show you want to keep your place in the team and I am sure we will do in the pre-season."
Sporting reasons
Pellegrini potentially moved a step closer to City when Malaga announced he would leave La Rosaleda after their final two Primera Division games.
The 59-year-old did have two years remaining on his contract but he and the club both cited "sporting reasons" for his departure.
Pellegrini added: "Everyone has the right and obligation to follow their chosen path, and Malaga must do the same.
"The club requires a realistic project next season.
"Malaga had a past without Manuel Pellegrini, and will also have a future without Manuel Pellegrini."
Pellegrini oversaw unprecedented success at Villarreal by guiding them to a Champions League semi-final in 2006 and second place in La Liga in 2008.
He then had a single season in charge at Real Madrid before taking over at Malaga, whom he steered to the last eight of the Champions League this year.