Premier League: Manchester City want five trophies in five years from next boss
Manchester City chief executive Ferran Soriano has revealed that they want to win five trophies in the next five years.
Last Updated: 24/05/13 12:44pm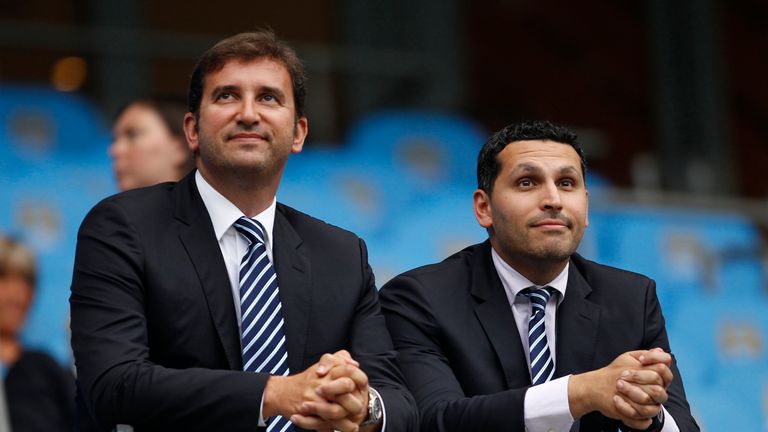 Manuel Pellegrini is widely expected to be named as the replacement for sacked manager Roberto Mancini later this summer, with Soriano overseeing an overhaul of City's structure as well as the appointment of their next boss.
The club are aiming high - demonstrated by the recent decision to sack Mancini after finishing second in the Premier League and reaching the FA Cup final - with Soriano admitting their next appointment will be a 'senior manager'.
Soriano said: "I think that next season is going to be much better, I am convinced about that.
"It doesn't mean we are going to win one or two titles, but in the grand scheme of things, if we look at the next five years and I could plan now, I would say I want to win five trophies in the next five years.
"That may mean we win no trophies one year and two in another, but on average, I want one trophy or title a year. That is the Champions League, the Premier League or the FA Cup.
"If next year we don't win, but progress our football and get to the semi-finals of the Champions League, finish second in the Premier League and lose the FA Cup final again, that will be fine."
Mancini lasted three and a half years at the Etihad Stadium and his successor - widely expected to be Malaga's outgoing boss Pellegrini - may not get any longer.
Soriano said: "Three years in football is a long time.
"In football, teams have cycles and you can have managers who go through several cycles and managers who go through one cycle.
"It will depend. Obviously, we want the next manager to stay for a number of years, but I think it would not be wise to speculate on the next manager being there for 26 years.
"This is an exception and I think three, four, five years is one cycle.
"Maybe a manager can do one or two cycles, but people get tired."
City have not yet confirmed 59-year-old veteran Pellegrini is the man they want to take charge next season but, when asked, Soriano did nothing to deny the intense speculation linking them with the Chilean.
Pellegrini, also a former Real Madrid coach, has taken both Malaga and Villarreal to the latter stages of the Champions League while earning plaudits for his style of play and man-management.
Soriano said: "I think the boxes are right. You know what we want. The analysis of the candidates goes beyond the results that we can see.
"Age is not relevant at this point, but with the kind of squad we have, we want a senior manager.
"We want a manager who knows about football but we want somebody who knows about man management and this is something we are convinced about - myself, the board, the owner - that it is impossible for us to win, win the Champions League, if we don't have a group that behaves like a family."
Those comments could be a reference to recent rumours of disharmony within the camp during Mancini's reign, although Soriano believes those stories were overplayed.
He said: "I think it has been a bit exaggerated. We are not too worried about this and it's not the reason why we decided to change the manager.
"Having said that, with the new manager we are asking him that the dressing room has as much harmony as possible, knowing that total harmony is impossible."
Mancini oversaw considerable success in relative terms, ending a 35-year trophy drought by winning the FA Cup in 2011 and topping that with last year's dramatic Premier League victory.
But City expected the team to build on that achievement - and not only in terms of winning more trophies but also by playing better football.
Soriano said: "It's about good football and good results.
"We can lose the final of the FA Cup, disappointing as it was, but it is not about one game, it is about whether the football we play evolves properly. In the last year, I think it's fair to say that it didn't.
"I think for the new owners of City to have had only two managers in five years is very good. It shows the willingness to have a very stable managerial team.
"Roberto Mancini did very good for the club. He changed the mentality, he changed it from a club that was not winning to a winning club and that is very hard.
"That is all good and we are thankful. We are now looking for several things. We are looking to play good football and to win and I said that in the right order. If you play good football you will win.
"The squad we have is a squad capable of winning the Premier League and is not a squad that should be kicked out at the first group stage of the Champions League."