Manchester City's Samir Nasri keen to make a positive impact for France
Manchester City midfielder Samir Nasri is determined to make a positive impact for France on the tour of South America.
Last Updated: 27/05/13 11:56am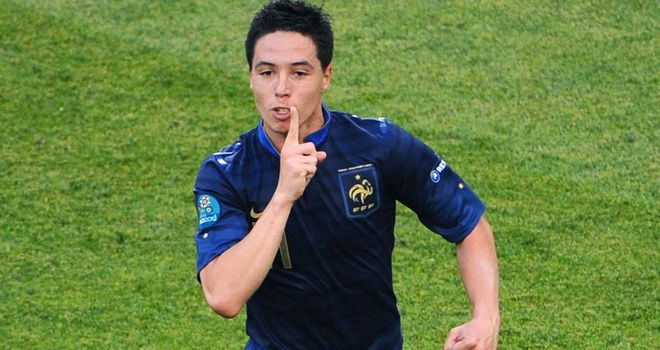 Nasri had been left out in the cold by manager Didier Deschamps following a three-match international ban for his behaviour during Euro 2012.
The 25-year-old had sworn at a reporter and yelled "Shut your mouth!" at another journalist during the tournament and was not immediately recalled after serving his ban.
However, Nasri is now back in the fold for the two friendlies against Uruguay and Brazil after a year's absence and is keen to make an impact.
"Firstly, I am very happy to be back in blue. This is something very important for me to play with the team of France," Nasri told L'Equipe.
"When I heard the news, I was very happy. I have received messages of encouragement from my team-mates, including Franck Ribery and Mathieu Valbuena, it warmed my heart.
"I come into the squad with the desire to show that I can help this team and I'm not, how some people think, the idiot that makes a mess in the group."
Nasri also admitted his time out of the national squad has given him chance to mature.
"Yes, criticisms and comments help you to mature. In life, if one is criticised - when they are justified, we must always try to understand the reasons and solutions to change," Nasri said.
"I made the mistake of waiting too long before my mea culpa and to apologise after the incident with the reporter.
"But the fact that I finally expressed helped me a lot. This allowed me to free myself of a weight and become calm in the field. Today, I feel good."