Manchester City refuse to meet £54m buy-out clause for Edinson Cavani, say Napoli
Napoli say Manchester City have told them they will not meet their £54m buy-out clause for striker Edinson Cavani.
Last Updated: 22/06/13 8:10am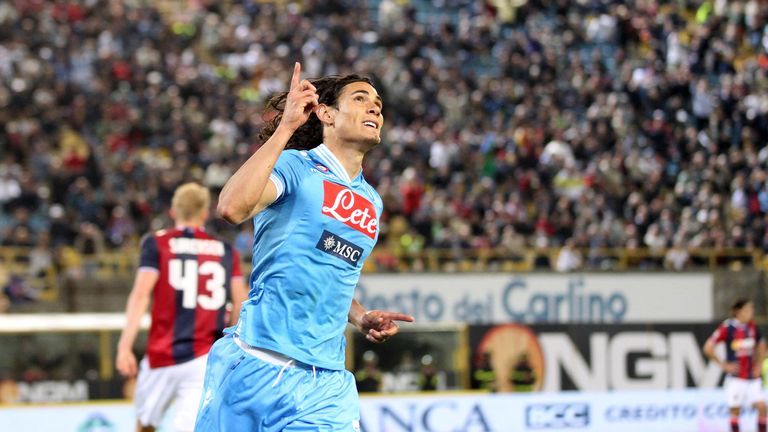 President Aurelio de Laurentiis, speaking at a news conference to officially unveil Rafael Benitez as the Serie A club's new manager, told reporters City were not prepared to meet a £54m buy-out clause for the highly-rated striker.
"Manchester City do not have money to pay for Cavani because they say we won't pay that," De Laurentiis said on Friday.
"Abu Dhabi (City's owners) say they would never pay 63m euros (£54m) for Cavani."
Real Madrid are leading the hunt for a player Chelsea also admire but though De Laurentiis revealed the Spanish giants have bid for the Uruguayan's services, he believes his exit is far from inevitable.
"At this time, Real Madrid are the only club who have made a firm offer for Cavani," De Laurentiis added.
"It is human, if Real Madrid call, to answer. He knows he has a clause and must decide.
"He could never deny the importance of a club like Real Madrid's, but don't forget that he made his name at Napoli.
"If a club like Anzhi (Makhachkala) enquire about him, maybe he says no, but other clubs like Bayern (Munich), Barcelona or Real Madrid could persuade him to leave.
"He knows that he has a contract and an obligation to us, and there is a buy-out clause.
"Cavani knows that at Napoli he is the most important player. I do not know whether, at Real Madrid or in other teams, he will be as important."