Roberto Mancini says Manchester City are still behind Europe's top clubs
Roberto Mancini says former club Manchester City are growing but still have some way to go to match the best in Europe.
Last Updated: 08/07/13 1:24pm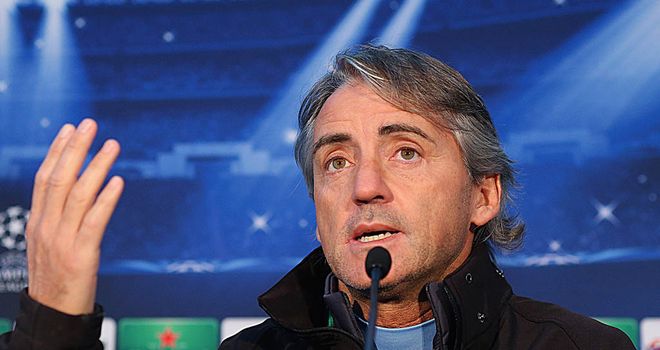 City have enjoyed great domestic success over the past few years, winning the FA Cup in 2011 and the Premier League 12 months later, but Mancini lost his job as manager when they ended last season without a major trophy.
Perhaps the most significant blemish on Mancini's record during his time in charge was City's poor performance in the UEFA Champions League, having failed to get beyond the group phase for two straight seasons.
The Italian's successor, Manuel Pellegrini, has done well in the competition previously with Villarreal and Malaga and will be expected to mount a stronger challenge, but Mancini has warned that City still trail the continent's finest teams.
Mancini was quoted in the Sun as saying: "I would say City are a bit like Juventus. They are growing but are still a bit behind the big European clubs.
"To win the Champions League you need experience and the right squad. There aren't many games, so if you get two wrong then you're out of the running.
"In the Champions League last year, we had the toughest group. Now they have lost two important players in Carlos Tevez and Mario Balotelli.
"I do not agree with those who say German or even English clubs are dominant in Europe.
"The Germans have the benefit of a long winter break, while the English lose intensity as time goes on because they never stop playing.
"Bayern Munich are the team to beat, as they are full of stars, solid at the back and strong on the counter-attack. I still consider Barcelona to be the strongest team, though."