Manchester City captain Vincent Kompany says the players are looking sharp
Vincent Kompany is confident Manchester City's squad is the sharpest it has been 'in a long time'.
Last Updated: 23/07/13 4:38pm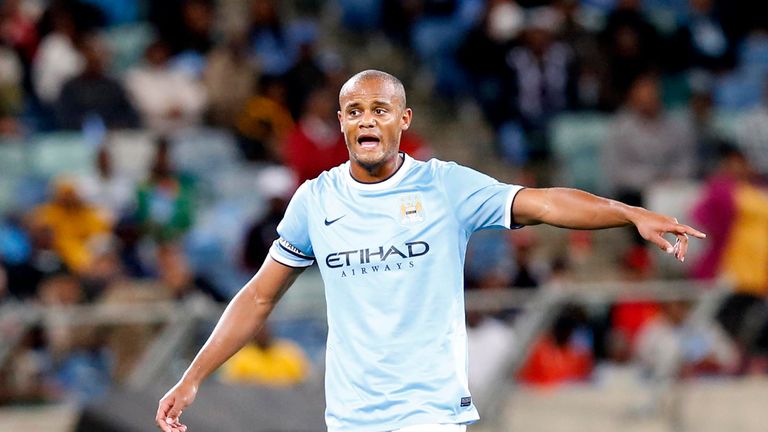 City finished second behind local rivals Manchester United in last season's title race and were also beaten by Wigan Athletic in the FA Cup final.
Manuel Pellegrini has subsequently replaced Roberto Mancini as coach and City have improved their squad by signing Fernandinho, Jesus Navas, Alvaro Negredo and Stevan Jovetic.
Preparations for the new campaign continue against South China on Wednesday in City's first game of the Barclays Asia Trophy in Hong Kong.
And, though City lost both matches during their recent trip to South Africa, captain Kompany is happy with how things are progressing.
"I can sense this team is hungry and there's been a great group atmosphere," said Kompany.
"At the same time, we've worked really hard in training and it has been really positive. It's probably the sharpest I've seen the team in a long time.
"I know the games and results [in South Africa] probably didn't show it, but that was only because in training we worked ever so hard and the focus was on increasing the fitness level.
"We didn't do enough last year and I see a team that means business. That is a great thing for me to see."
Assistant manager Brian Kidd believes the players are smarting from last season's disappointment and is happy with the quality in the squad.
Kidd said: "I can't say enough about our squad. I think it's a super squad of very talented players and there are some good people in our squad.
"I think, come kick-off time, it's going to be a hard ten months in the Premier League, but I think we'll be ready for it.
"The players are hurting from last season because they are a proud bunch and they didn't take it lightly, believe you me."