Premier League: Vincent Kompany not getting carried away by Manchester City derby win
Vincent Kompany insists it is too early to say whether Manchester City's 4-1 win over United is a defining game.
Last Updated: 23/09/13 10:47am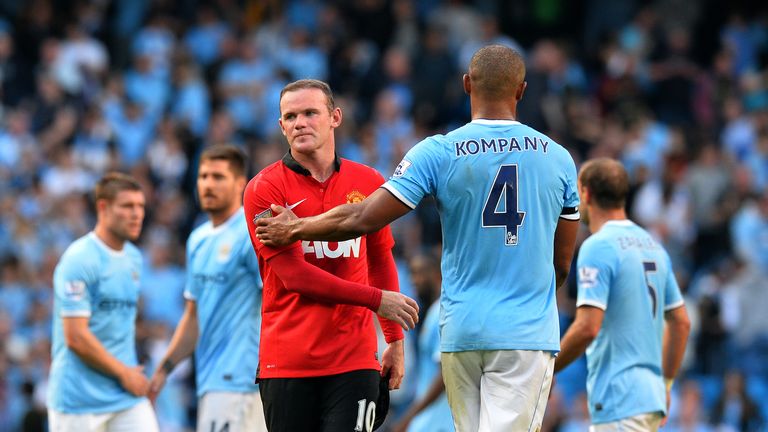 The City captain put in a superb showing at the heart of the defence as Manuel Pellegrini's men recoreded a crushing victory over their local rivals at the Etihad Stadium on Sunday.
The Belgium international felt City may have craved victory more than the champions on this occasion and praised his team-mates for keeping their cool over the 90 minutes.
"Maybe the game meant a bit more to us than to them," Kompany told Sky Sports. "We've been looking forward to this fixture, and our fans have been speaking about it for a long time - and we need to win those kind of games.
"We've got an unbelievable home record and there's no reason why we should fear the opposition, even though they are very good.
"We did play with two very good strikers. Defensively, we've had a very good record for the past three years, so we knew that we could attack and we could defend. Mainly I think we stayed so calm."
When asked if City had laid down a marker with the style and margin of their win, Kompany responded: "I think you make a statement over the whole season. It's too early to say if it's a defining game.
"But it would be silly to give away those very precious three points. We need to win the next games, and then we'll enjoy what we've done today.
"As I said, when we won 6-1 at Old Trafford, I said we need to stay humble. It's only three points, but it gives us all the confidence and allows the fans to celebrate for a few days."
Man-of-the-match Yaya Toure, who scored City's second goal just before the interval, added: "I think it's a massive victory today. The team played very well, and defended very well against a good team.
"In the first half, we scored two fantastic goals which gave us a massive advantage for the second half. I got lucky - I was in the right position."